Showing 1-5 of 7 posts. Most recent first |
Next 5
Portugal in three Parts: Three
Notes and photographs from around the Evora area of Portugal's Alentejo region 19th-20th February 2007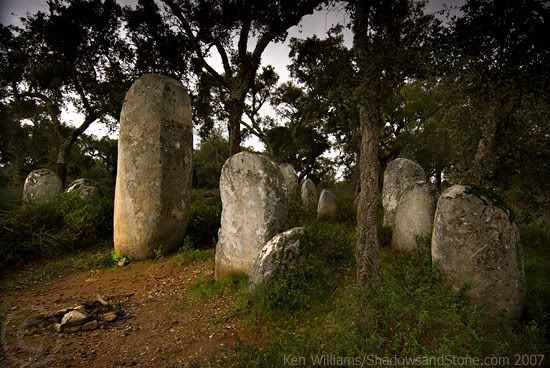 Gates of Mogos Stone Circle

Part three of a three-part weblog, part one is here:
http://www.themodernantiquarian.com/post/55691
and part two here: http://www.themodernantiquarian.com/post/56726

For a slideshow overview of Portugese sites included in the weblogs, follow the link: http://www.shadowsandstone.com/gallery/2500254

The photos in the weblog are all reduced in size for speed of loading, larger versions can be found here:
http://www.shadowsandstone.com/Megaliths%20of%20Portugal


Tuesday 20th February 2007

Ah yes, I remember it like it was just February. The mid-afternoon slump banished with a shower and some tasty food in Evora. There's a wierd feeling about town, already feeling a little light and hazy after a few beers and a poor nights sleep I thought someone had flipped the crazy switch when we strolled into the market town. Over there, a bunch of old men in 50's slacks and jackets sitting chatting, one of them bizarrely wearing a bright red nose. From a small lane way a group of children emerge dressed as bees and flowers. Bizzare. We find out there's a carnival on but there's no time to be wasted on frivolities, the Anta's won't be there forever.

We head out of town following Cope's directions to the Barrocal Dolmens and just reading them back now I can remember that uneasy feeling, at least I have the enthusiasm to persevere, other folk in the car do not! So we left the town with no sign of the 'leaving Evora' sign we were to zero the milometer at and pressed on. The dolmens are down an obscure track at a crossroads that leads to a house where friendly people live. There's a nice little gate into the field with the larger dolmen but the smaller one has one of those wire-and-post jobs that springs back 20ft when you undo the catch and seems to defy any attempt to pull it all the way back. Neither gate seem sturdy enough to hold in crazy eyed bulls so I ventured in.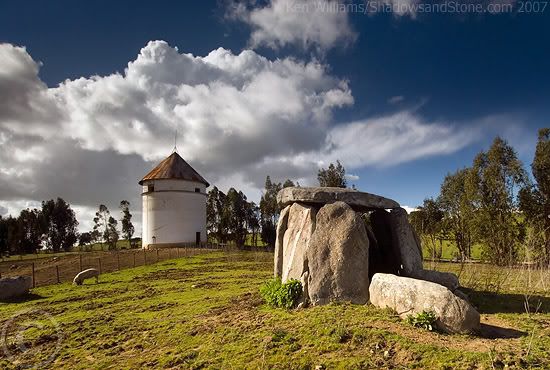 The Large Barrocal Dolmen

This one is a beauty, almost like a little grotto. The chamber is somewhat circular and very roomy, it reminded me a little of Haroldstown Dolmen except less draughty. There's a remaining slab projecting out from the entrance that would have once been part of a passage but nothing else of a cairn remains on the heavily ploughed land.

As I stood composing a shot with the odd circular building behind it I heard the dread of every townie, a raspy snort coming from 6 o'clock. Slowly I turned around to face my fate only to find an unkempt pig rooting through my camera bag. Scanning my internal database of animal temperament twice, no entries under 'danger' were to be found, just as I suspected. Safe to whip my bag from under the snortmeister. Soon I had more little trottered friends but charming as they were there were places to go, antas to feel.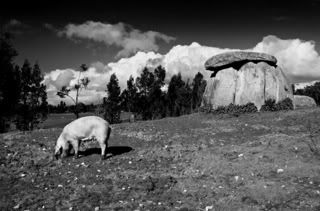 Large Barrocal Dolmen and piggie


The smaller Barrocal dolmen is not far across the road and it's a little treasure, kind of like Craigs Dolmen in Antrim in size and shape but staggering like a drunkard. It's sat half way up a gentle slope with a lovely view over a little lake and pleasant farm land.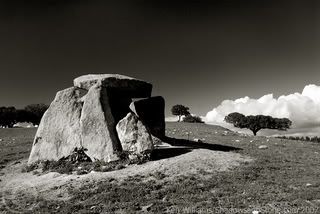 Little Barrocal Dolmen

Anta Grande do Zambujeiro

This dolmen is a national monument and has signs irregularly placed around the area, you still feel like you shouldn't be driving through farm yards and agricultural colleges with bits of tractors and all sorts lying around but soon you come to a small car park where you must cross a bridge by foot. You can't see the dolmen from here and the fact that the bridge has collapsed and been washed down the river might put many off, not one for the kiddies then which is a shame.

This is the mothership of all dolmens, it's unbelievably big and the stones that make up the chamber are giants that could make you dizzy when you peer over them into the chamber far below. It was once a massive hill with a passage and enormous chamber hidden below, much of the mound remains behind the dolmen and around the sides but the megalithic skeleton is fully exposed, somewhat protected by a nasty tin roof.

The chamber is inaccessible at the moment and signs of fires and huge amounts of graffiti are probably as much to blame as the shaky looking structures that join the passage and chamber. The massive former capstone lies broken and discarded behind the chamber, what a sight this thing must once have been! After visiting many Irish and a handful of Portugese dolmens of sizes great and small, I felt like I had just been taken to the Queen Bees lair. A must see.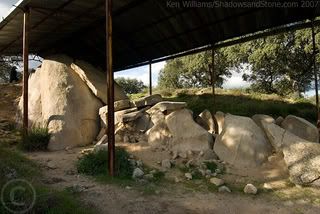 Anta Grande do Zambujeiro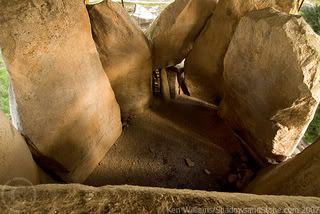 Anta Grande do Zambujeiro, looking down into the chamber.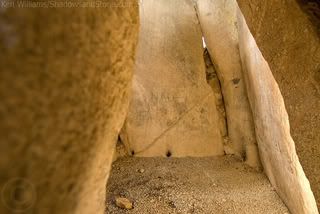 Anta Grande do Zambujeiro, peering into the chamber.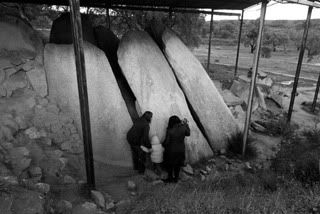 Anta Grande do Zambujeiro, 'little' hope of getting in .



After leaving here we found a little village restaurant to stop and have a coffee, and also to decide the best way to use our few remaining hours, while enjoying the sun and view from the terrace over the orchards and valley below, a million miles off the tourist route. The directions to Anta-Capela de N S do Livramento seemed straightforward but that never stopped us from getting lost. We found the little village and stopeed to ask some delighted locals who were quite proud of their dolmen chapel and amazed to see it's entry in TME.

We weren't far off but by the time we reached it the sun had dropped below the trees and the monument was in shade. I'd seen lovely sunny pics of it's bright white painted exterior with homely blue skirting but now it's truly in need of a fresh coat. To the passer by it probably just looks like a quaint chapel with some very dodgy plastering and brickwork out the back, as Cope points out though a large banana shaped stone lies alongside to torment the devout and tempt the newly virtuous dolmen church. This is more a curiosity site than a megaracks haven but it's wonderful all the same and the views are customarily spectacular. Come in the morning time and bring either some whitewash or thinners depending on your persuasion.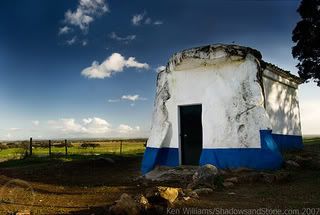 Anta-Capela de N S do Livramento , dolmen church

With the sun dropping fast and the minutes and seconds ticking we made our last detour back to the Cromeleque dos Almendres, I had the idea in my head that the hillside faced the setting sun and I was hoping to get some better pictures than the cloudy flat photos from the previous day. As we pulled up however it was with a little disappointment that I realised it was in fact in the total opposite direction. 'Damn that Cope to hell' I thought to myself, but skimming through his notes again it appeared I'd gotten it totally backwards, the hill does of course face sunrise as described. Whether through my own impatience or Cope's vagueness we'd stopped and started, stumbled and swore but in the end I'd seen some of the finest sites Portugal had to offer, almost entirely thanks to TME for putting it in my head and getting me there. Maybe it was thus written to add spice to the adventures of megalith hunters, it certainly made for a very memorable few days. In summary, Portugal has some amazing megalithic sites, the landscape is beautiful and the villages and people have charming quirks and a friendly manner. Many speak no English, we'll just have to learn Portuguese and go to one of the finest megalithic havens in Europe.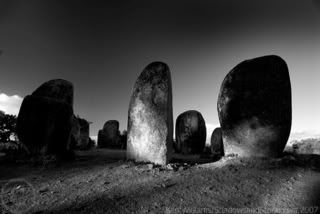 Evening at Cromeleque dos Almendres
Portugal in Three Parts - 2

Notes and photographs from around the Evora area of Portugal's Alentejo region 19th-20th February 2007
(Originally to come in two parts, now extended to three to accommodate more pictures)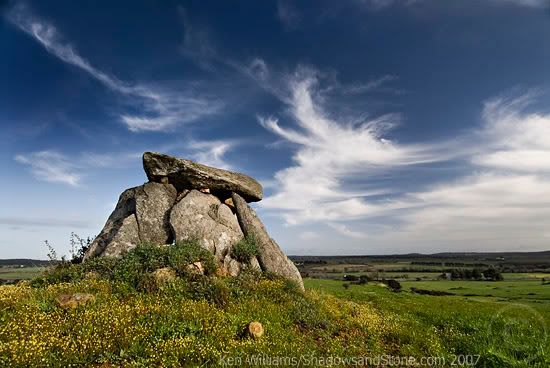 Anta dos Tourais (Dolmen of Tourais), near Montemor-o-Novo, Alentejo.

Part two of a three-part weblog, part one is here:http://www.themodernantiquarian.com/post/55691

For a slideshow overview of Portuguese sites included in the weblogs, follow the link: http://www.shadowsandstone.com/gallery/2500254

The photos in the weblog are all reduced in size for speed of loading, larger versions can be found here:
http://www.shadowsandstone.com/Megaliths%20of%20Portugal



Tuesday 20th February 2007
6.30am
Is being single minded and absent minded the same thing? I had to be 'back before lunchtime, MISTER!' so there was no time to lose. Therefore it was with much rejoicing that I remembered just at the crucial moment that I was to swish not swallow the mouthwash. Phew. My nerves were already like electric fencing after leaving the phone alarm set on vibrate on top of the sideboard across the room. A sideboard of the kind that are engineered and finely tuned to be the world's most efficient transducer, converting your vibrating phone into the hell-child of Bedlam and Armageddon. It began to dawn on me that the weblog was starting to sound like the voiceover on Sex and the City so I quickly moved on to the weather check.

Misery. Wet, windy and grey. Crapola. That put to bed my plans to head north to Crato, a few hours drive from the hotel and a long uncertain walk. Nothing else for it except to sleep off some of that misery.

8.30am
Now that's more like it! Blue skies clearing from the north and spring sunshine on the wet footpaths, time to get the hell out of here. The hotel is right on the road back to Montemor-o-Novo, an area clustered with little numbers circled in pencil on the map provided in TME. Happy days.

First stop will be Anta dos Tourais, not the most elegant dolmen from the picture in TME but hey, a little candlelight and some wine, who knows? And besides, some guy used to make shoes in it a few decades ago. The dolmen is small but visible near the horizon as you pass along the main road that runs parallel to the motorway and Cope's directions bring me up a farm lane into a yard with an overly enthusiastic guard dog. I spent a few moments trying to determine if I could reach the doorbell in a safe manner by driving up to it and reaching out the window but fate had not abandoned me yet (must have been just on a fag break). A nice woman approached in her car and we conversed above the barking through open windows. You can reach the dolmen through the farm yard but the paramedics may not reach you so it's safer to take the next left and take your chances with the fences up the hill.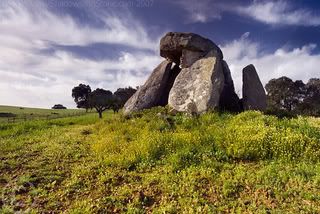 Anta dos Tourais, looking uphill, roughly south west I think.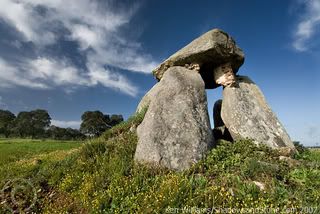 Anta dos Tourais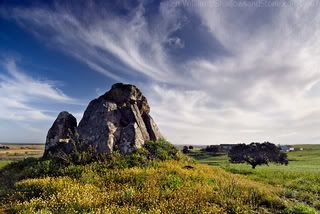 Anta dos Tourais

This is actually a very fine anta, not huge in scale but even in it's slightly dilapidated state it proudly stands watch over some exceptionally beautiful plains below and into the distance. Some of the shoemaker's brickwork still remains attached to the capstone, like a piece of spare rib stuck between a fair ladies' teeth and underneath the capstone a small perfectly igloo-shaped structure clings menacingly. My first inclination was that it must be a bird's nest but when you're a foreign guy from the big city you aint takin no chances. I can also attest to Cope's words about boggy ground and rotting footwear. Bring boots and a door mat (to drape over the barbed wire..)


Only a stones-throw away (for a giant), and across the motorway on a small tree lined ridge, the bulbous Carapeteiro Dolmen would be of special interest to me. This was mainly because of its apparent affinities to the primitive form of dolmen found in Ireland, Wales and Scilly*. They don't want you to visit it. There was a sign in red and white but, hey, it's not like I can read Portugese is it? The message is reinforced with live electric fences, I should have taken the hint but so-close, yet-so-far and all that. The field was empty anyway.

Roasting in my waterproofs and jacket, I sighed with relief and threw down my bag beside the monster dolmen. Before I forget, must check for the cupmarks mentioned in the book, dumpy, dumpty-doo...uh-oh! Bolted to the spot, I felt like that British soldier at Isandlwana who peeked over the edge of the ravine only to find the horror of tens of thousands of Zulu warriors ready for battle, sitting in perfect silence. 'Oh bugger, ruminants!' I rued (or words to that effect). Portuguese bulls have a take-no-shit look about them and horns a foot and a half long, there were dozens of them. Slowly reversing back, I grabbed my pack and pointed the camera in the direction of the dolmen, made a few clicks and ran like boiling hell. Add an extra shot of electric fencing, just for good measure.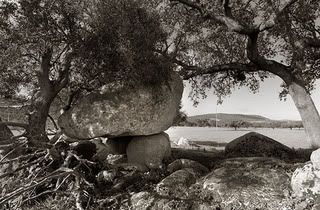 Carapeteiro Dolmen, no time to note orientation or features of interest!

Back in the safe haven of the car, it was time for a bloody strong coffee. The Portuguese don't 'do' coffee they way we do it in Ireland, the petrol stations also seem to double up as the local bar and town hall. The guy who could speak English was away for a moment and I have only one word of Portuguese, 'abrigado' plus an assortment of umm's and err's accompanied by bizarre hand signals. So there I sat in the midst of boozing locals with a dainty little espresso cup when all I wanted was a good old Irish style paper cup with plastic lid and cardboard collar filled with coffee that is thankfully too hot to get any taste from. I made 'mmm.. nice!' sounds and bolted.

Oh ye gods, give me something simple! Nothing sounded simpler than Anta Grande de Comenda da Igreja, apart from the name of course (which I believe translates to 'The great Dolmen of the Church of Comenda'). It even has sign posts.

The walk from the road is wonderful, despite the now mandatory scoping for bulls I really enjoyed the short ramble and as I approached the enclosure I saw the landowner with his jeep and dogs was just leaving through the little gate, nice to see some continued interest and care being taken of this fine Anta.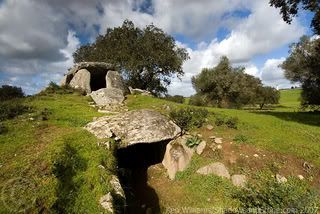 Anta Grande de Comenda da Igreja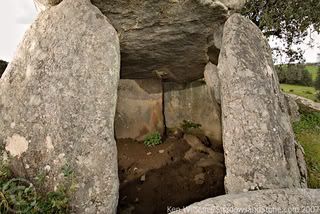 Anta Grande de Comenda da Igreja, looking into the main chamber


This is a big one. Much, much bigger than I expected. The main chamber seems larger than in Newgrange! The walls are lined with exceptionally huge stones and the enormous capstone has broken under its own weight. The mound disguises the true extent of the main chamber and the long, wide passage/gallery that leads up to it. Its setting is equally charming, half in the shade of trees and the only sounds come from the birds and bees. This is picnic spot heaven and I wished I had packed some food and drink so I could have stayed longer.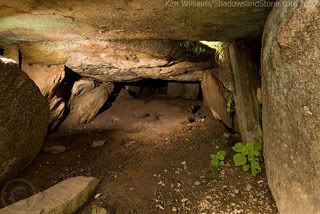 Anta Grande de Comenda da Igreja, looking into the gallery that runs into the mound towards the main chamber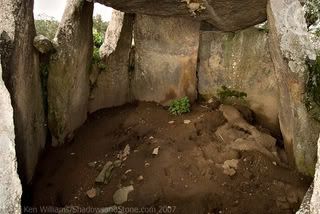 Anta Grande de Comenda da Igreja, a wider view of the interior of the chamber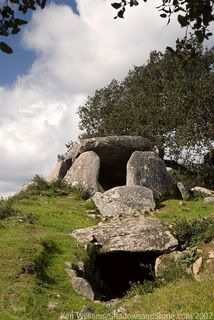 Anta Grande de Comenda da Igreja, the main chamber and 'gallery' from the front

It occurred to me though, as I looked back over my shoulder to watch patches of sun and shade pass over the mighty tomb, that I had seen mention of a smaller anta in the same area. As it happened, when turning in the driveway I met the farmer who, without speaking a word of English, gave me animated directions to the small dolmen and even drove me up to it. It's practically on their doorstep, near the edge of a slope that falls off sharply behind it in a large field of the curious looking trees that are stripped of their bark to make cork, leaving them looking like they are wearing grey long-sleeve t-shirts.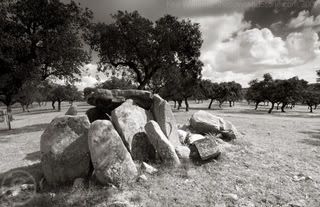 Anta Pequena da Comenda da Igreja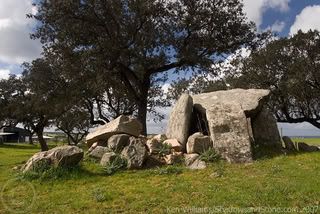 Anta Pequena da Comenda da Igreja, from the rear

In the Alentejo, where Dolmens come in large and extra-extra large, this is a small one, but not altogether lacking in charm. It reminded me a little of the small dolmen-like passage tomb skeletons such as Craig's Dolmen and The Giant's Ring. The lush green fields and willowy trees that surround it add immensely to its attraction, especially considering its proximity to the farm. I would have loved to wander a little around the groves of trees and down to the lovely lake behind but I was due back in the hotel in a short time for some lunch and a shower before check out. The day was far from over though and I had great expectations for the afternoon. I wasn't to be disappointed!

*Almost all the references are from The Megalithic European. Tried with no luck to find anything megalithic related in English around Lisbon and Evora.
Portugal in Three Parts - 1
Notes and photographs from around the Evora area of Portugal's Alentejo region 19th-20th February 2007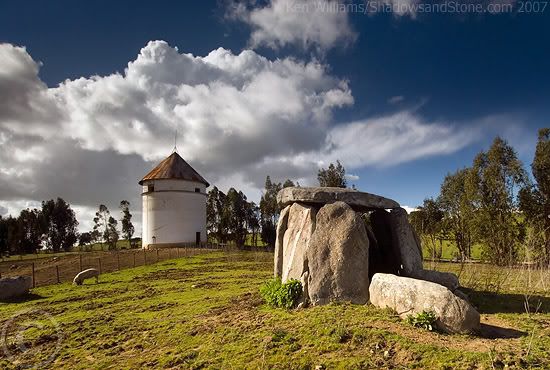 Barrocal Dolmen, Near Tourega, Evora

For a slideshow overview of Portugese sites included in the weblogs, follow the link: http://www.shadowsandstone.com/gallery/2500254

The photos in the weblog are all reduced in size for speed of loading, larger versions can be found here:
http://www.shadowsandstone.com/Megaliths%20of%20Portugal



Monday 19th February 2007

"Portugal is home to enormous numbers of very ancient megaliths. Indeed, it is claimed by some archaeologists to be the aboriginal centre of the whole culture. Futhermore, the stupendous circular stone enclosures known as cromeleques and their equally impressive neighbours the huge chambered antas of the Alentejo share their landscapes with ancient monuments that have only recently been recognised as such."
Julian Cope, The Megalithic European

"The standard of driving is appalling and the accident fatality rate is the highest in Europe... Mild mannered and relaxed most of the time, the Portugese turn into demons behind the wheel."
Globetrotter: Lisbon and Portugal

For our trip to Portugal, we pored over two guidebooks, my travel-worn copy of TME was to be my bible and the Globetrotter guide quoted above was borrowed from the library by my wife, putting my expectations of sunny driving days from cromeleque to anta into serious turmoil!
Hiring a car in Portugal is cheap as chips, and the only way of properly visiting the remarkable sites of the Altentejo, but was it worth risking life and limb? I drive most of the day every day in my normal work, so I am not of a nervous disposition behind the wheel but could I expect my wife to trust me on the wrong side of the road, on the wrong side of the car, and on the wrong side of suicidal maniacs in Renault Twingos?

As it turns out, much of the bad press Portugese drivers get is alarmist and unjust and probably written by people who have never driven in West Kerry. The only danger we faced was of spontaneous self-combustion brought on by rage at the GPS voice-over calmly announcing another 'route re-calculation' as we missed yet another tentacle-like slip road that sneaks off the spaghetti junctions that look like they were designed after a charming drawing of a tree stuck to a refrigerator with a magnet in the shape of a banana with a smily face.

So, we left lovely Lisbon on an early, grey and damp morning for Evora and were duly impressed that a motorway took us practically from outside the hotel to the outskirts of Evora in less than an hour and a half (including a quick stop for coffee and an attempt to purchase some CD's for the journey that yielded only a 70's and 80's compilation featuring Mungo Jerry and Gloria Gaynor).

Arriving far too early to check in to our hotel, the rather nice-for -the-money 'Evora Hotel', I found it far too hard to resist the prominent signs for 'Cromeleque Dos Almendres' that seem to point from every road and track hereabouts. Our GPS saw fit to abandon us at the nearest village but small wooden signs led us down a muddy dirt track with potholes sufficient to bury well fed pigs. How much longer? The lane seemed to go on and on until suddenly, on your left, the most amazingly peculiar and fattened stones seem to wander off from the roadside downhill into the bushes and scrub below.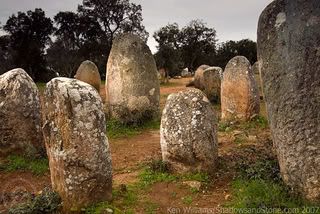 Almendres Stone Circle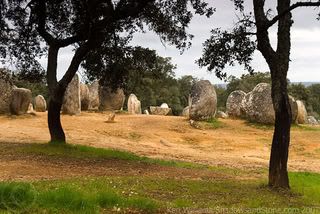 Almendres Stone Circle

This is a wonderland of stones, a playground for the child in every megalithic traveller. Confusion changes to pattern and back again and then you notice the wondeful, weathered carvings.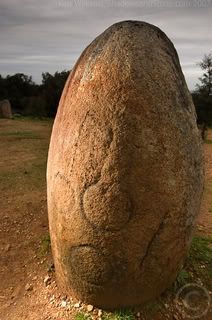 Almendres Stone Circle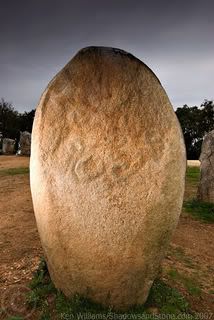 Almendres Stone Circle

Even with the very poor light and occasional bus load of tourists, this was one place you could spend a day wandering, incomparable.
To see more, larger photos of Almendres, follow the link: http://www.shadowsandstone.com/gallery/2503142

Some time later we made it back to the hotel and after a quick lunch and scrub I set off for the afternoon. After the wonderful Almendres, the Gates of Mogos cromeleque was too tantalising to put off for tomorrow, bad light and all. Cloudy, grey conditions are, though, pretty much the perfect conditions for photographing woodland sites, strong sunlight causes massive contrast and confusion that 2D photographs from current digital technology find almost impossible to handle.

The Gates of Mogos is another site with quite easy access, the directions in TME took me right to the parking space nearby but thats when the trouble started. Beside the directions in the book is a photo of a small red and white sign and the notes continue 'Stop at red and white sign and follow boggy path uphill for 250 metres, continue to brow of hill where stones are easily visible'. No problem at all, directly beside the sign there is indeed a small gate with a boggy path leading uphill. Almost one full hour later after getting disorientated more than once in the maze of paths leading through the uniform plantations of trees, over hills and ridges in every direction, in final exasperation I decided to cross the road and located a barely visible track through the undergrowth leading up the slope and lo-and-behold, there was the maginficent ruins of the Gates of Mogos! When I returned to the car I could see on the map at the beginning of the Portugal section it is marked on this side of the road but you wouldn't guess it from the directions in a million years!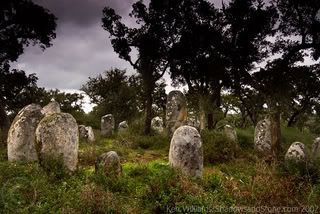 Gates of Mogos Stone Circle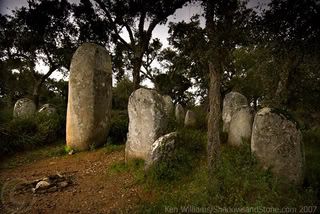 Gates of Mogos Stone Circle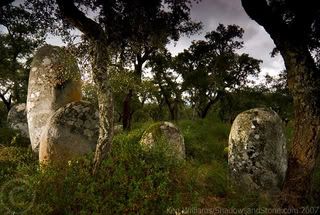 Gates of Mogos Stone Circle

This is a wonderful riot of a site, the standing stones are at first glance haphazard and eccentrically placed but after rooting around you find many more stones prostrate and fallen, some leading past the fenced in public area down the slope below. One stone, one of the smallest, seems to have been attacked at some point and the top almost destroyed. The centre-piece is an 'outrageous four metre central phallus stone whose ridged quartzite glans demands as much attention as Long Meg' according to Cope, a great description for this mammoth of towering stone, seemingly flattened and worked into its now shapely form.

A difficult site to photograph, it has however become one of my all-time favourite sites thus far. Though restored it has not been sanitised at all, a distant world just a few hundred metres from the road.
More and larger photos of Mogos can be found here: http://www.shadowsandstone.com/gallery/2503128
With so much time spent looking for and looking at Mogos, the remainder of the evening left little time for field wandering and head scratching so instead I made my way to what surely must be the most unmissable, unbelievable and unlikely Franken-megalith, the bizarre Dolmen Church of Pavia.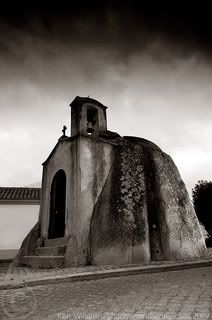 Dolmen Church of Pavia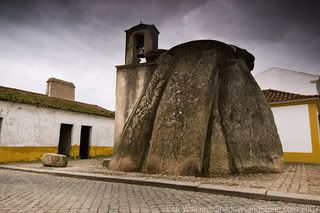 Dolmen Church of Pavia

The dolmen is located in the village square, though as you approach the village a large brown sign tries to entice you away, promising 'Antas' with no directions or distance. I took the road later and found nothing. In the square itself, a little Citroen rental car gets much more notice than the monstor standing in its midst from the old men sitting around on benches. As I set up on the street the buzzing of a quad bike seemingly propelled by rocket jets careering round the corner sent me scrambling to swipe the camera and tripod off the road and then disaster! The tripod head had not locked in the foot on the camera base properly and the evasive action sent the camera, lens and filters smashing to the ground with a terrible clang. Horror! With one filter smashed, its holder cracked and the adapter ring bent I considered it a lucky escape. The lens is still stiff but no other damage seems to have affected the camera or lens. Phew!

Back to the dolmen, I can only give a brief description because this one is almost indescribable! It was once a fine anta of very large stones though its cairn and passage have been completely removed. The large captstone, or part of it, still sits on top but the gaps between have been filled with concrete and the tower and facade of a tiny church have been imposed on the front of the dolmen. Gates bar entry to the small chapel inside which has niether seats nor adornment apart from a tiny altar at the rear. It is enclosed on three sides by close buildings and faces away from the main square as if it were sent to stand in the corner in shame. Odd, very, very odd!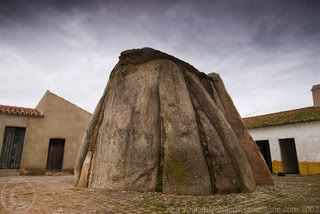 Dolmen Church of Pavia

Larger photos of Pavia are posted here: http://www.shadowsandstone.com/gallery/2503530

As dark drew closer, I headed back to Evora though more than once became sidetracked by 'Anata' signs that pointed here and there but bore no fruit. Tomorrow however, I was determined to catch some wild antas come rain, hail or barbed wire.
West Coast: Cooler.
Maughnaclea and Bantry Bay
13-14th January 2007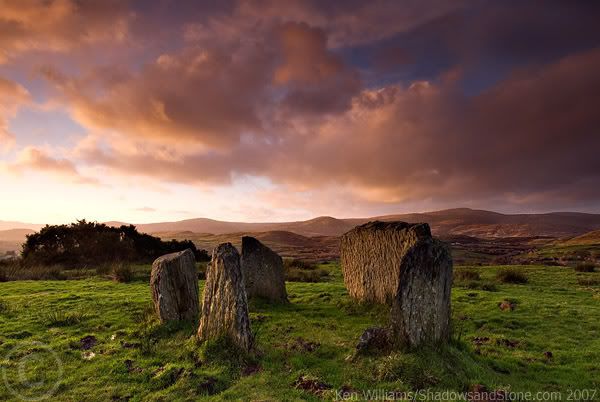 Sunset at Kealkil Stone Circle, Co. Cork

I recently had a conversation with an aquaintance who lives in the Bantry area, our discussion made me realise that I'd put off making the long drive here for too long. The whole area around Maughanaclea and Bantry is literally littered with great sites of all shapes and sizes. There are peculiar stone rows, a four poster, five stone rings, radials cairns and recumbent stone circles all within a couple of hours touring.

Saturday evening saw improving weather as I left Cork city centre, though by the time I'd reached the Bandon roundabout I still couldn't decide whether sunset would be best spent at Gurranes or futher west around Bantry Bay. Fortunately the line of cars that sneaked into the bus lane were not very accomodating, making the decision easy. Wild, wild west it is!

With a window of about one and a half hours in which to get to the site and set myself up, it had to be somewhere that was relatively easy to find and get to. The photos I had taken before at Kealkil do not do any justice to the wonderful views from the complex, maybe they could be improved upon.

As I arrived a small group pulled up in front of me, by now the weather had turned grim and gloomy but we all made our way gingerly around the swamps and hedges towards the massive totem pole-like standing stones. Battered by wind and rain, the group of visitors took some photos of each other and the taller stone and left. I took shelter behind the smaller, squatter stone and waited.

The dark rolling clouds began to thin about one quater of an hour before sunset, though I had by now returned to the car. When a break came, I could see that there was no high level cloud above the dark ponderous rain clouds above, perfect conditions for a spectacular sunset if everything falls into place. Fortified with some chocolate, I squelched my way back across the fields.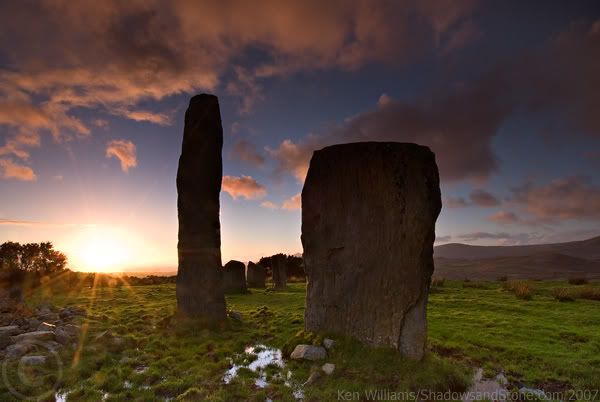 Kealkil, Co. Cork. Standing stones and five stone circle beyond, looking west.

The town of Bantry is a short 15 minute drive from Kealkil, I had not arranged any accomodation so this tourist town was a pretty safe bet in early January.

One word easily sums up the style, comfort and general luxury of the Bantry Bay Hotel: No.
Looking fairly benign from outside and with a moderately respectable reception area, you cannot be prepared for the drab, depressing rooms upstairs. Creaky floor boards and walls of paper certainly do give the place an 'intimate' feel. The staff were cheerfully friendly and food was quite good but this place could not be recommended unless you practise extreme transcendental meditation. I finally resorted to earphones when the sound of boyracers outside the window was drowned out by the girl next door roaring at her mate for pukeing in the bath.

During a quick breakfast, snatched after a little lie-in, I pored over the map looking for inspiration for some morning photos. I hadn't realised before how near I was to Dunbeacon Stone Circle, the last attempt to photograph this wonderful circle was a complete fiasco of needless hill climbing, dissapointing light and a 3km walk back to the car in the dark with no torch. This time I knew exactly how I was going to approach the circle, though I have to say that anyone intending on visiting the circle would probably be best advised to avoid Julian Cope's directions and just use the map. I may have taken them too literally, abandoning the car on the road along the coast and taking to the hillside bravely brushing aside the thick brambles, barbed wire and impenetrable hedges only to stand on the ridge above the circle to watch an oul fella cycling up the road just one field and gate across from the circle. God rest the poor souls of the skeletons I passed on the way up the hill, still clutching their copy of TME.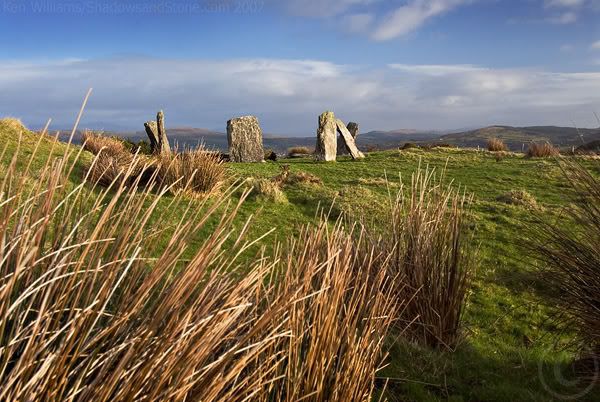 Dunbeacon Stone Circle, Co. Cork



As you drive up the road thats nearest to Dunbeacon stone circle, you see a brown information sign with 'Standing Stones' on it, pointing to this field. The driveway also has a 'Parking' sign there too! This is a nice pair of tall stones pointing (almost) at the stone circle on the hill opposite. They were felled but re-erected in the past so may not exactly align with their original axis. A large new house has been built just above them, perhaps this was the site of the church mentioned in TME? Access is very easy with a short walk up a driveway and then through a specially installed gate.




Oddly enough, though the circle is quite obscure, the pair of standing stones at the foot of the hills opposite have their own tourist information sign, even some parking space! They are now situated in the shadow of a newly built house and are find themselves roughly aligned with the stone circle and a very telephone pole, placed with astonishing precision. The stones are tall and lean, like a miniature and denuded Garrane.



And now for something completely different!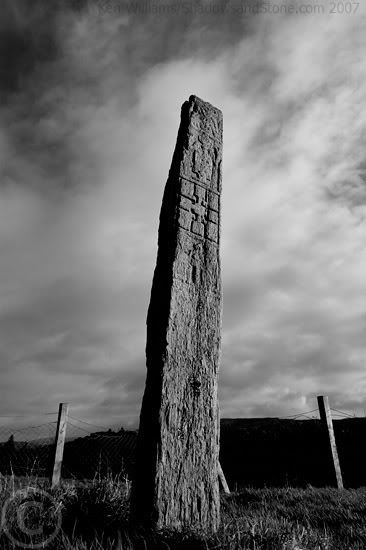 Kilnaruane Inscribed Stone, Bantry, Co. Cork

Kilnaruane is a strange site, with one long, thin stone carved with a vertical boat on one side and a couple of crosses and figures on the other surrounded by four oddly carved stones set deep into the ground. Other stones lie scattered about and beyond them what looks like a small, encircling bank. I got the feeling that this could perhaps be the christianised site of a small, recumbent circle of the Carrigagulla type, with the torn up stones being reused for a new ritual tradition. Though I didn't know it at the time, this site also features a bullaun stone, two stones looked sufficiently bullaun like though for me to take notice, and some pics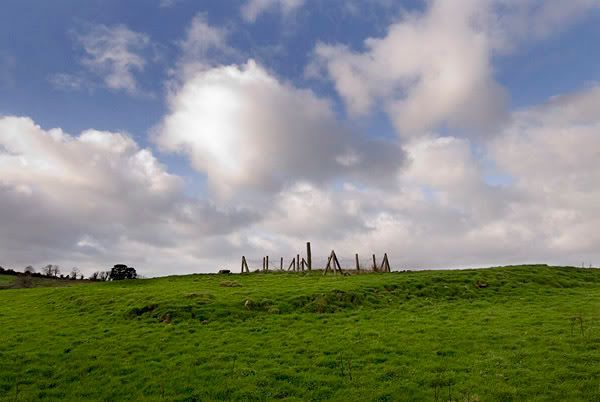 Kilnaruane, Bantry, Co. Cork (note the low bank around the site, an enclosure or wall foundations??)

After some appropriately fishy food in Bantry, the afternoon was free to track down the real targets of the trip: the peculiar short row at Ardrah and the 'four poster' at Gortnacowly, so much acclaimed by Aubrey Burl.



Ardrah Stone Row, Co. Cork



There's no real difficulty in finding the route to the Ardrah row with the OS map, the best advice I can give is simply to give yourself twice as much time as you think you'll need and pick up a pair of knee (or higher) boots. This is the easiest route through the abandoned farmhouse: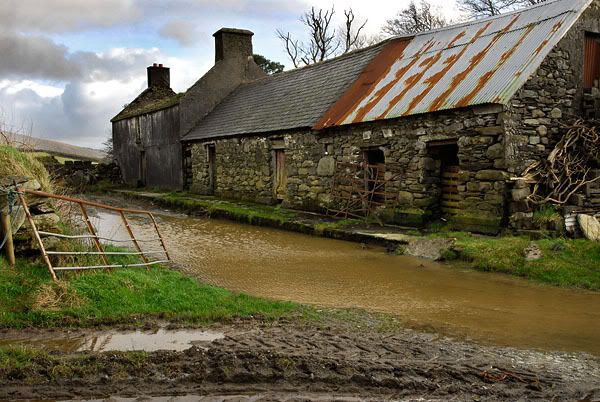 Abandoned Farmhouse, Ardrah, Co. Cork



I've wanted to visit this row since I saw RedBrickDream's photos here a year ago or more. The setting and the arrangement is just superlative, hats off to whoever chose this spot and picked the stones, they really had a very good eye.

The row is peculiar, in a funny kind of way it reminds me of those cartoons you see of the mother duck leading the ugly ducklings across the road. Its a little overgrown now since the older photos, whatever lived in this field must have ate that typical rush-like grass. The sheep that live here now sure dont. Someone also left one of those horrible large black plastic sheets that they cover bales with, lumped between the last, smallest stone and the second last. I tried removing it but that, and the massive digger a hundred yards away took away a little of the magic of the visit, just a little bit.

As in the other fieldnotes, this is a bugger to get to, the driveway past the old farmhouse is now a swimming pool and all the fields are serioulsy boggy. Bring wellies when you come, but do come.



After a glorious hour at Ardrah, moving on to Gortnacowly left me with little in the way of expectations. The clouds and rain had rolled in once again and yet again I found myself taking the most difficult of several available routes, but once I climbed down the large stone wall east of the stones and made my way over, the sheer size of the largest stone here and the silent affirming of its accomplices really spun my imagination in a hundred directions: Why? Who? What? How??? No time to think, the rain sudden;y began to retreat and spectacular sunshine lit up the hills behind me, racing down across the fields, drawing a spectacular rainbow across the sky as it went.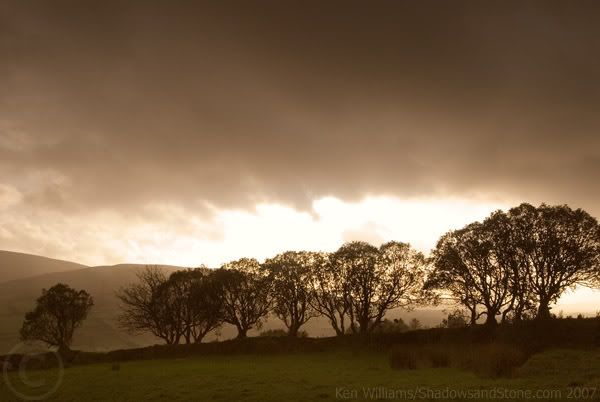 Sun breaks through the rain clouds, Gortnacowly, Co. Cork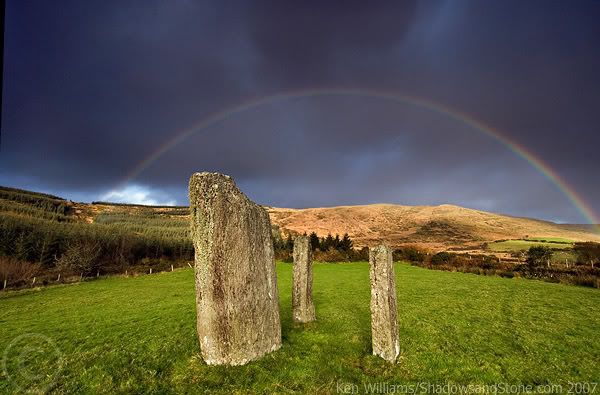 Gortnacowly 'Four Poster' and rainbow, Co. Cork
I forgot to print off the directions below and made a complete yak of getting to the stones. I parked in a driveway and knocked on the door, there was noise inside but no-one answered. This is getting more common in the depths of rural Ireland. Anyway, I walked up a lane and then along the side of a small stream into another field. I then crossed a hedge and up in the corner I had to scale a wall at an open gate. At first glance over, there seemed to be no way in or out of the field but once you are near the stones you realise there are a few gaps on the southern hedge.

The stones themselves? Wonderful! One massive, bulky hulk and two skinnier but still quite large accomplices. Like the big boss man and his two cronies. The setting is again spectacular, this is stunning countryside. The stones dont seem to have ever formed a rectangle, it must have been quite askew when complete (if there was a fourth stone) in much the same was as the comparable, but slightly less dramatic, arrangement at Lettergorman.

The weather continues to oscillate though many dramatic shifts, it rained quite a bit which meant constant wiping of the lens for the brief burst of sunshine that produced a magnificent rainbow.



Back in the car, it seemed like the day had gone on for weeks, incredibly it was still only three o'clock and I wondered if it was possible for my legs and batteries to tackle any more of the west Cork marvels. Burl's guide says of Maughanasilly; 'convieniently located by the side of a road', at that moment in time, this sounded like my kind of place!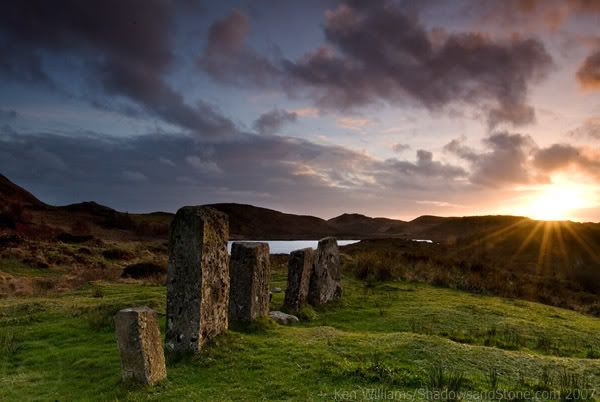 Maughanasilly Stone Row, Co. Cork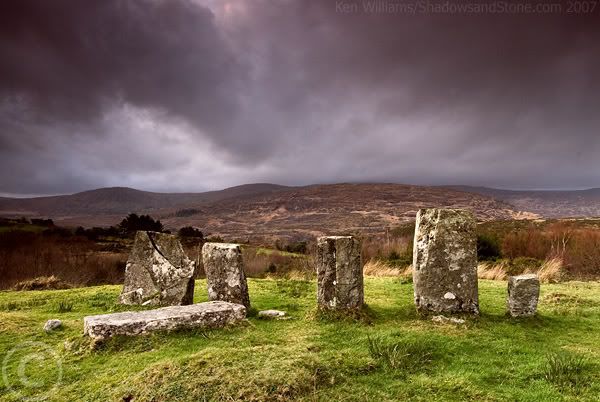 Maughanasilly Stone Row, Co. Cork



Driving through the hills north of Kealkill, you could forget that your on the way to visit one fo the few excavated and restored stone rows in the south west, the scenery is incredible. Just as you pass a peacefull little lake in a natural amphitheatre you come to a small cross roads. Maughanasilly stone row is on the hillock to the right, overlooking the lake. The name mey be ridiculous but this is a seriously wonderful place. A small space just outside the gate is handy for parking and the site has a little, informative sign just inside the swinging gate. Visitors are welcome here and the site is very easy to access, though not for the disabled.

I arrived here just as the sun was re-appearing for a few minutes of glorious colour before sinking below the horizon, there are wide views across wild mountains to the north and west but no view to the east. To me, it looked like this row is very closely aligned to the sunset at midwinter, the sign suggests a lunar alignment.

The stones that remain standing are all similar but look bizarrely mismatched or arranged, they are all quite small, none above 1.5m. One lies prostrate on the south side but there doesn't seem to be a gap for its socket, as if it had missed out on megalithic musical chairs.



With a few decent photos now in the can and still plenty of sites to occupy me another day, I packed up, squelched out of the wets and mud caked boots and high tailed it out of the mountains, next stop: Dublin! Not so fast!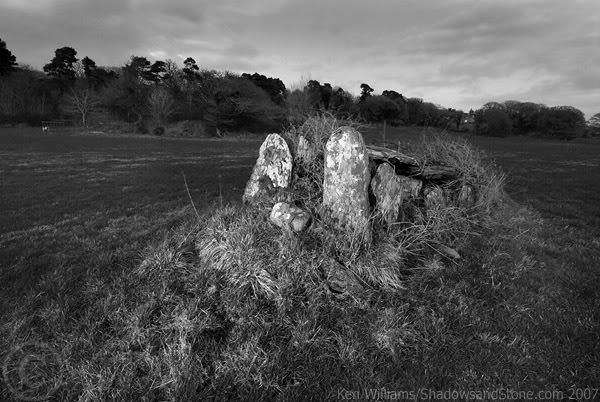 Inchincurka Wedge Tomb, Co. Cork

I cant explain how I managed to miss Inchincurka on my way past here before, it stands proud as punch in the centre of a field, impossible to miss if you are driving north from Bantry to Cork. Its in excellent condition structurally but is encased in weeds from the north side into the chamber, like one of those bicycle helmets made of leather strips with manic hair protruding wildly, from the south. The light though was fading fast, and my batteries even faster. As darkness fell I folded my tripod away and stole into the night...
The Seven Spiritual Laws of Stone Hunting
Donegal and Tyrone, 5-6th January 2007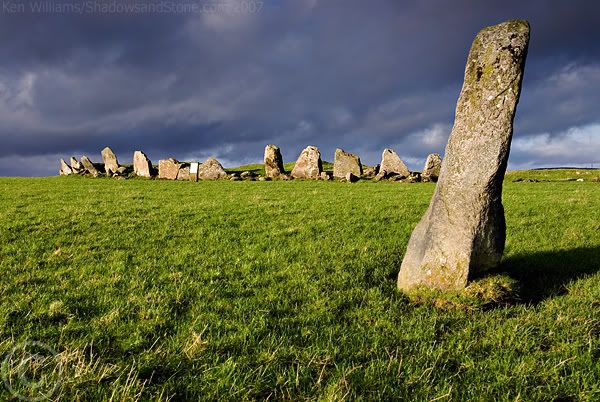 Beltany Tops Stone Circle, Co. Donegal

This is only my third weblog, another was long overdue and now I'm sitting here still recovering from a long trek to and from the far reaches of Donegal, taking in some sites in Tyrone on the journey there and back. This weblog also incorporates, in no particular order, some revelations and realisations that have occured to me over the last few years of stone seeking. These are merely provisional, they will be modified, added to and chalked up as the year progresses!


Law 1 Weather forecasts are like horoscopes, tarot and that 'estimated pick up time' on your Argos reciept, take it with a pinch of salt or, even better, a pinch of Lemsip.



Friday afternoon, the weather says bad, the view from my car looks good. Donegal is a fairly long trek after a working week so is the gamble of dicing with the weatherman worth it? As the ad says, you never know unless you go. Leaving after dark, it clouded and cleared and when the almost full moon rose around half six, I left doubt behind me and navigated north. Metcheck.com had 90% cloud cover for the whole north of the country and a good chance of rain.

I have wanted to see Gortnavern Dolmen for a long time now, such a complete and unmolested dolmen with fine views is fairly rare so a trip was long overdue and the moment had come.

I contemplated going to Beaghmore for some moonlight pics of the stones there but as I crossed the border the weather deteriorated and I pressed on. Just past Newtownsterwart I spotted a sign for Baronscourt Forest which reminded me of Ballyrenan, just a few miles from the main road. Could it have been cleared since my last visit? Could I find it again? A quick phone call to my wife provided the co-ords and a lift in the weather provided the motive.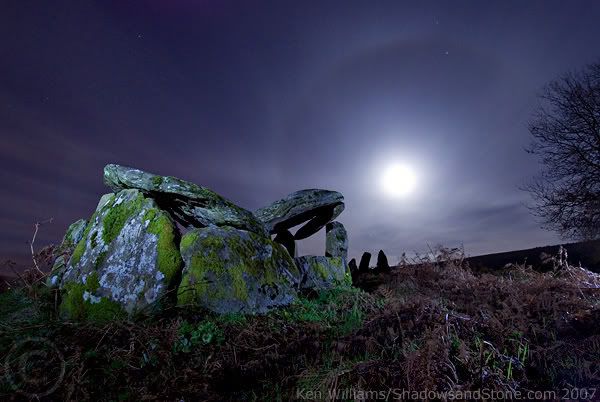 Ballyrenan Portal Tombs, Co. Tyrone and the Moon




05/01/07.

The bracken has died back once more or has been cleared, either way this was the best view of the site as I had ever seen. Not 'mown' or overgrown, just natural. I arrived well after dark and by the ample light of the near-full moon took around ten long exposures of the larger tomb before getting creeped out by the noises emanating from the barn behind and animals crawling though the undergrowth. This is a really great site.






Law 2 When determined to get up before dawn, your accomodation will be defecitve or noisy or have a tempting bar.



The Friday night in the 'hotel' in Letterkenny was quite busy, the party was still in full swing in the lounge below so the bar provided a relatively quiet place to read 'Monu-Mental About: Pre-Historic Dublin' over a pint of the black stuff. Festivities didn't end until after 2am when some person or persons unknown decided that it was an opportune moment to start hammering nails or hacking off limbs, not sure which.

Bleary eyed but still with at least a flickering flame of enthusiasm, I opened the curtains at 7.30 AM to find dark, drizzly clouds. Weather man 1, Photographer, 0. After a spartan breakfast I left the 'hotel' and miraculously the sky had cleared completely, one all. By now I had larked around a bit and was going to miss sunrise but with not a cloud in sight it was not going to be a once in a lifetime event.


Law 3 Trust road signs less than weather men.



During WWII road signs and markers were removed to foil the 'hun'. Someone forgot to tell Donegal that the Nazi menace had been vanquished over half a century ago. Whatever signs there were for Milford and Kerrykeel looked suspiciously untrustworthy. My gut feeling was correct, the few that remain were seriously askew and I also discovered that maps call the nearest village to Gortnavern 'Carrowkeel' but the road signs say 'Kerrykeel'. With a few U-Turns I made it to the village still in good time as the sun was rising.


I followed my GPS up a narrow road to a farm which had a narrow track leading from it. I presumed this is the one mentioned a while back by Fourwinds, the farmer was outisde the house so I went over for a chat. This man had the thickest accent I've ever come across, I picked up about every fifth word and didn't even realise he was asking me questions. After some confused looks were exchanged I had gathered enough info, the tomb could be accessed from the lane. Sure enough there was a little wooden signpost but this lead me to the bottom of a field where a fast moving stream about 9-10 inches deep had to be negotiated. I was already knee deep in mud but this was beyond my ankle high boots. I had to find another way.

Back on the 'main' road as the farmer called it (the second right out of Kerrykeel, where the sign for the dolmen points in the opposite direction!) I came to a steep sloping drive up to a gate. The car would have to be abandoned here and the trek to the dolmen itself is quite an obstacle course.



Law 4 The better the light, the more likely you will get lost trying to find your target.



Well, an hour after scheduled I finally made that last trouser-ripping jump over the barbed wire fence into the field with the gorse wall and the dolmen itself. I sent the tripod over first, as it crashed down on the grass it hit a rock and one of the legs fell off. Fantastic.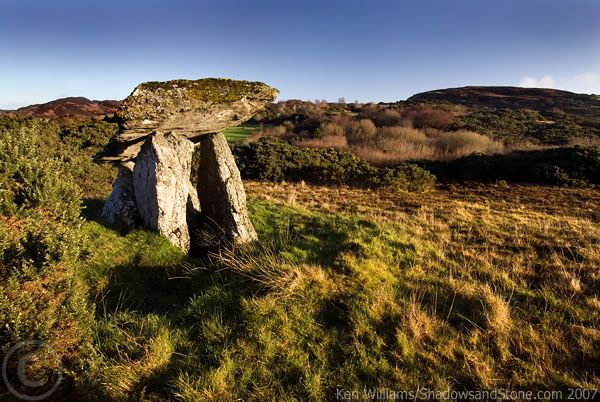 Gortnavern Dolmen, Co. Donegal

Gortnavern at last! Kneeling to wonder at this masterpiece I felt a shooting pain in my leg, I had just kneeled on the broken lower jaw of a neighbouring sheep skull. What could possibly happen to me next? Its lucky this tomb is so picturesque and the views magnificent, or no sane person would darken its portal.



What a wonderful monument! What superb scenery! Gortnavern is worth the trouble of tracking down, and there is some trouble.

The tomb itself has shifted in on itself but is really quite a fine example of the type, and the location couldn't be better. IF the gorse was cut back a bit.

It's not far at all from the village of Kerrykeel (called Carrowkeel on most maps) but the sign points in the wrong direction, this may have something to do with it being battered by shotgun pellets! After a while in the Irish countryside you learn to read the telltale signs that a sign has been turned the wrong direction and this one is of the more obvious type. I followed my GPS to the nearest road and this brought me to an accurate sign, I also spoke to the farmer on the lane and the little I could gather from his thickly accented directions was that you need boots. Well, bog standard now aren't they? Well, yes, the signpost points you to a stream that was almost a foot deep after the recent rain.

Turning back onto the main road, I found the lane leading to the abandoned cottages. This way involves only some small streams, a number of tied gates, capsized trees blocking the lane, ankle deep mud, barbed wire and thick gorse bushes. Dont attempt this with kids or if your only popping in out of curiosity, only the most hardened stone seeker in the sturdiest of boots will happily take this trip. It is worth it.





Law 5 As the quality of light increases, so does your hunger and fatigue levels. A drink would be nice too. Your phone will ring at its elusive peak.



Photogenic clouds were finally making a welcome appearance on the horizon but after the sparse breakfast and previous night's Guinness, some R&R at a local cafe was most urgent.


Law 6 January is a terrible month to try and fit in five widely spaced megaliths.



The visit to Barnes Lower to see the superb stones and rock art had to be postponed if I was to get to Beltany and on to Leitrim for sunset. This makes a convienient excuse for returning soon, despite the entanglements and down right muck sucking morning, I had grown to love this part of the island.

And so to Beltany.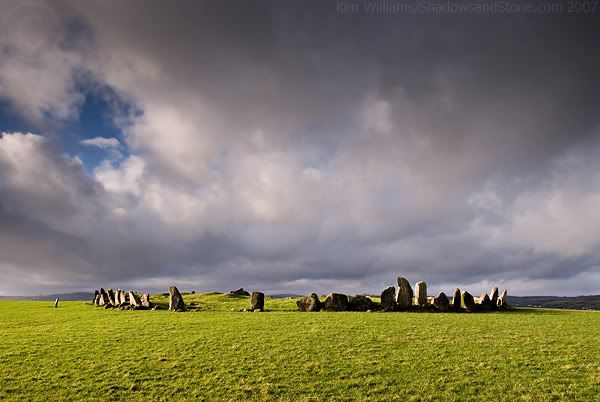 Beltany Tops Stone Circle, Co. Donegal
Beltany after-noon 06/01/07

I remembered from last visit that you only need follow the signs from Raphoe to get here quickly and easily. Well, yet again another Donegal signpost has been molested. As you leave Raphoe, the brown sign on the grassy knoll should point to the right hand road from the fork, not straight on.

After asking a very enthusiastic walker I found my way back and parked up at the bottom of the lane, slipping into something more uncomfortable as I got out of the car. My walking boots and waterproofs. Walking up the lane I realised you can see the circle as you approach, this didn't hit me last time because it was pitch black. Anyway, its a nice way to view the circle as a whole so check it out if your passing.

Arriving in the gate the light was absoltely perfect, strong low sun to the south and dark menacing clouds to the northwest. Fantastic! Arriving back at Beltany circle was exhilerating, I left in gloom the last time so didn't really get a good view of its magnificence in good light. This is one site with serious vibes. As the clouds came and passed the shadows and shapes cast by the light were almost surreal, I felt like running and shouting and perhaps I did, there wasn't another sinner for miles! This is what its all about.

I spent some time exploring what remains inside and I became more and more convinced that this was not just a simple pile of stones and earth inside, with the light raking over the protruding stones broken shapes and patterns appeared and dissapeared in the ruins. Whatever was once here truly must have been magnificent, why waste all those beautiful views?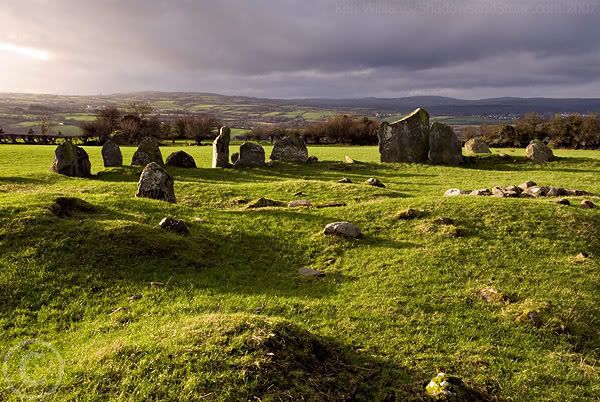 Part of the interior of Beltany Tops Stone Circle


Law 7 The weather man will always get the last laugh.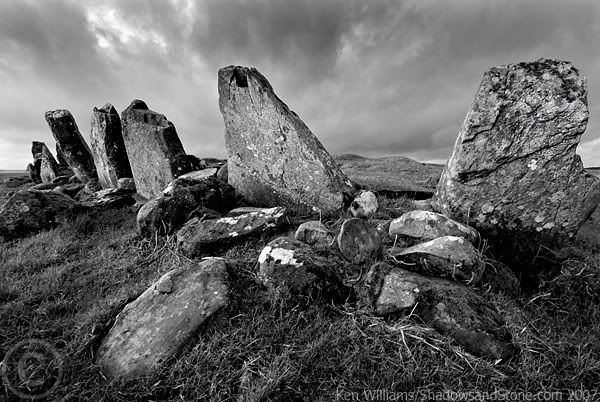 Clouds close in meancingly...


With high spirits after leaving Beltany I headed deep into the Co. Tyrone countryside to locate the charmer of a megalith that is Leitrim Dolmen. As, ahem, 'informal' as the signs are in Donegal, in the 'British' north they are downright pedantic. Every track that you can run a cow down has a name and a neat sign. Some even have the townland below. If I had a map this would be a breeze, using the GPS and going 'as the crow flies' was like being transported into a game of pac-man. The 'ghosts' chasing me though were rain clouds. Thinking I had outrun them I joyfully pulled up at the little fence with the dolmen in plain view. After spending some time surveying I got down to taking pictures but as the lens cap came off, the clouds decided this was the moment to deliver their cargo.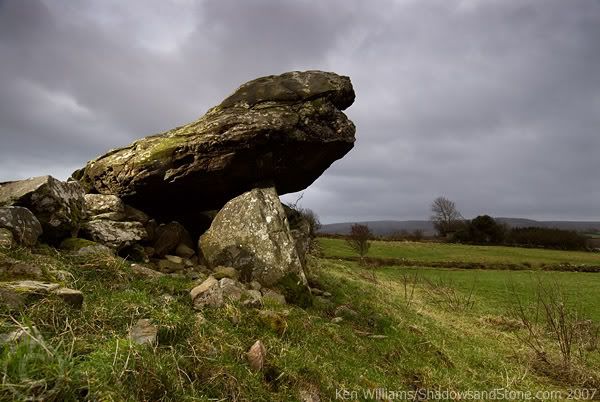 Leitrim Portal Tomb, Co. Tyrone.



This tomb is quite cute, its just sat there like an old farmer leaning against the wall watching the world and their cattle go by.

The capstone is very odd, as pointed out by Fourwinds a gleaming white 'eye' oggles you as you approach, you do indeed feel watched. It is very easily spotted from the road but the local roads are maze-like, if you've got a good map or a gps this is an easy, pleasant site to visit. Shame I got thoroughly rained on before I got my fill of photos.




As I got into the car it had just turned 4 O'Clock, I turned on the radio and heard 'and thats your Saturday sport, now, the weather...'
Showing 1-5 of 7 posts. Most recent first |
Next 5
http://www.facebook.com/shadowsandstone
---