Donegal and Tyrone, 5-6th January 2007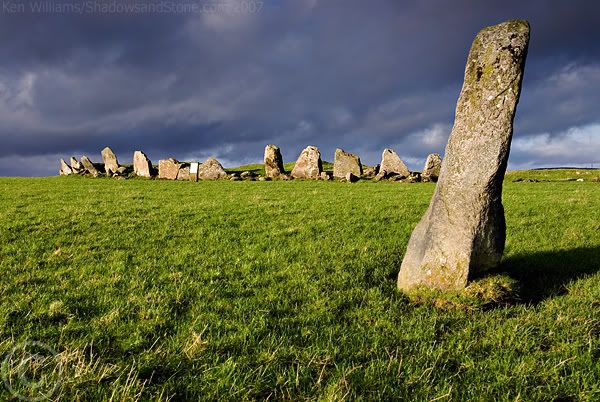 Beltany Tops Stone Circle, Co. Donegal

This is only my third weblog, another was long overdue and now I'm sitting here still recovering from a long trek to and from the far reaches of Donegal, taking in some sites in Tyrone on the journey there and back. This weblog also incorporates, in no particular order, some revelations and realisations that have occured to me over the last few years of stone seeking. These are merely provisional, they will be modified, added to and chalked up as the year progresses!


Law 1 Weather forecasts are like horoscopes, tarot and that 'estimated pick up time' on your Argos reciept, take it with a pinch of salt or, even better, a pinch of Lemsip.



Friday afternoon, the weather says bad, the view from my car looks good. Donegal is a fairly long trek after a working week so is the gamble of dicing with the weatherman worth it? As the ad says, you never know unless you go. Leaving after dark, it clouded and cleared and when the almost full moon rose around half six, I left doubt behind me and navigated north. Metcheck.com had 90% cloud cover for the whole north of the country and a good chance of rain.

I have wanted to see Gortnavern Dolmen for a long time now, such a complete and unmolested dolmen with fine views is fairly rare so a trip was long overdue and the moment had come.

I contemplated going to Beaghmore for some moonlight pics of the stones there but as I crossed the border the weather deteriorated and I pressed on. Just past Newtownsterwart I spotted a sign for Baronscourt Forest which reminded me of Ballyrenan, just a few miles from the main road. Could it have been cleared since my last visit? Could I find it again? A quick phone call to my wife provided the co-ords and a lift in the weather provided the motive.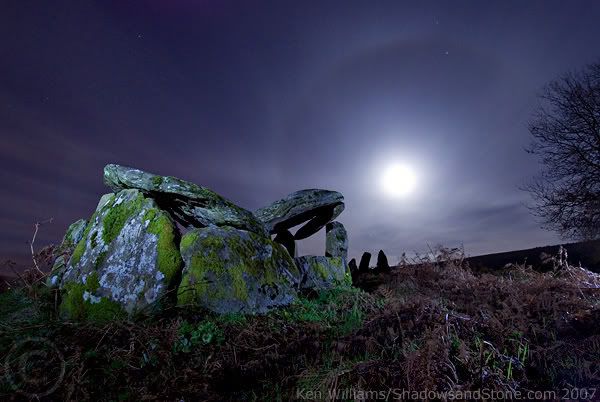 Ballyrenan Portal Tombs, Co. Tyrone and the Moon




05/01/07.

The bracken has died back once more or has been cleared, either way this was the best view of the site as I had ever seen. Not 'mown' or overgrown, just natural. I arrived well after dark and by the ample light of the near-full moon took around ten long exposures of the larger tomb before getting creeped out by the noises emanating from the barn behind and animals crawling though the undergrowth. This is a really great site.






Law 2 When determined to get up before dawn, your accomodation will be defecitve or noisy or have a tempting bar.



The Friday night in the 'hotel' in Letterkenny was quite busy, the party was still in full swing in the lounge below so the bar provided a relatively quiet place to read 'Monu-Mental About: Pre-Historic Dublin' over a pint of the black stuff. Festivities didn't end until after 2am when some person or persons unknown decided that it was an opportune moment to start hammering nails or hacking off limbs, not sure which.

Bleary eyed but still with at least a flickering flame of enthusiasm, I opened the curtains at 7.30 AM to find dark, drizzly clouds. Weather man 1, Photographer, 0. After a spartan breakfast I left the 'hotel' and miraculously the sky had cleared completely, one all. By now I had larked around a bit and was going to miss sunrise but with not a cloud in sight it was not going to be a once in a lifetime event.


Law 3 Trust road signs less than weather men.



During WWII road signs and markers were removed to foil the 'hun'. Someone forgot to tell Donegal that the Nazi menace had been vanquished over half a century ago. Whatever signs there were for Milford and Kerrykeel looked suspiciously untrustworthy. My gut feeling was correct, the few that remain were seriously askew and I also discovered that maps call the nearest village to Gortnavern 'Carrowkeel' but the road signs say 'Kerrykeel'. With a few U-Turns I made it to the village still in good time as the sun was rising.


I followed my GPS up a narrow road to a farm which had a narrow track leading from it. I presumed this is the one mentioned a while back by Fourwinds, the farmer was outisde the house so I went over for a chat. This man had the thickest accent I've ever come across, I picked up about every fifth word and didn't even realise he was asking me questions. After some confused looks were exchanged I had gathered enough info, the tomb could be accessed from the lane. Sure enough there was a little wooden signpost but this lead me to the bottom of a field where a fast moving stream about 9-10 inches deep had to be negotiated. I was already knee deep in mud but this was beyond my ankle high boots. I had to find another way.

Back on the 'main' road as the farmer called it (the second right out of Kerrykeel, where the sign for the dolmen points in the opposite direction!) I came to a steep sloping drive up to a gate. The car would have to be abandoned here and the trek to the dolmen itself is quite an obstacle course.



Law 4 The better the light, the more likely you will get lost trying to find your target.



Well, an hour after scheduled I finally made that last trouser-ripping jump over the barbed wire fence into the field with the gorse wall and the dolmen itself. I sent the tripod over first, as it crashed down on the grass it hit a rock and one of the legs fell off. Fantastic.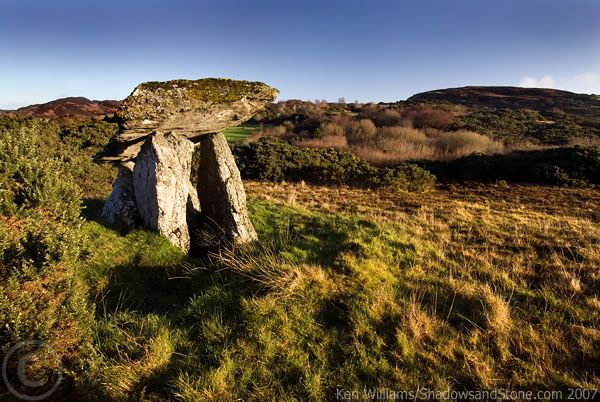 Gortnavern Dolmen, Co. Donegal

Gortnavern at last! Kneeling to wonder at this masterpiece I felt a shooting pain in my leg, I had just kneeled on the broken lower jaw of a neighbouring sheep skull. What could possibly happen to me next? Its lucky this tomb is so picturesque and the views magnificent, or no sane person would darken its portal.



What a wonderful monument! What superb scenery! Gortnavern is worth the trouble of tracking down, and there is some trouble.

The tomb itself has shifted in on itself but is really quite a fine example of the type, and the location couldn't be better. IF the gorse was cut back a bit.

It's not far at all from the village of Kerrykeel (called Carrowkeel on most maps) but the sign points in the wrong direction, this may have something to do with it being battered by shotgun pellets! After a while in the Irish countryside you learn to read the telltale signs that a sign has been turned the wrong direction and this one is of the more obvious type. I followed my GPS to the nearest road and this brought me to an accurate sign, I also spoke to the farmer on the lane and the little I could gather from his thickly accented directions was that you need boots. Well, bog standard now aren't they? Well, yes, the signpost points you to a stream that was almost a foot deep after the recent rain.

Turning back onto the main road, I found the lane leading to the abandoned cottages. This way involves only some small streams, a number of tied gates, capsized trees blocking the lane, ankle deep mud, barbed wire and thick gorse bushes. Dont attempt this with kids or if your only popping in out of curiosity, only the most hardened stone seeker in the sturdiest of boots will happily take this trip. It is worth it.





Law 5 As the quality of light increases, so does your hunger and fatigue levels. A drink would be nice too. Your phone will ring at its elusive peak.



Photogenic clouds were finally making a welcome appearance on the horizon but after the sparse breakfast and previous night's Guinness, some R&R at a local cafe was most urgent.


Law 6 January is a terrible month to try and fit in five widely spaced megaliths.



The visit to Barnes Lower to see the superb stones and rock art had to be postponed if I was to get to Beltany and on to Leitrim for sunset. This makes a convienient excuse for returning soon, despite the entanglements and down right muck sucking morning, I had grown to love this part of the island.

And so to Beltany.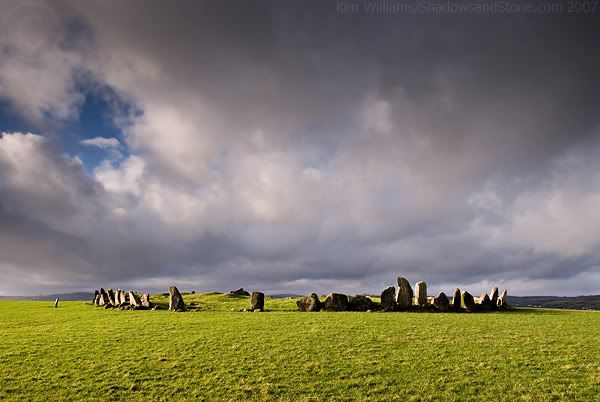 Beltany Tops Stone Circle, Co. Donegal
Beltany after-noon 06/01/07

I remembered from last visit that you only need follow the signs from Raphoe to get here quickly and easily. Well, yet again another Donegal signpost has been molested. As you leave Raphoe, the brown sign on the grassy knoll should point to the right hand road from the fork, not straight on.

After asking a very enthusiastic walker I found my way back and parked up at the bottom of the lane, slipping into something more uncomfortable as I got out of the car. My walking boots and waterproofs. Walking up the lane I realised you can see the circle as you approach, this didn't hit me last time because it was pitch black. Anyway, its a nice way to view the circle as a whole so check it out if your passing.

Arriving in the gate the light was absoltely perfect, strong low sun to the south and dark menacing clouds to the northwest. Fantastic! Arriving back at Beltany circle was exhilerating, I left in gloom the last time so didn't really get a good view of its magnificence in good light. This is one site with serious vibes. As the clouds came and passed the shadows and shapes cast by the light were almost surreal, I felt like running and shouting and perhaps I did, there wasn't another sinner for miles! This is what its all about.

I spent some time exploring what remains inside and I became more and more convinced that this was not just a simple pile of stones and earth inside, with the light raking over the protruding stones broken shapes and patterns appeared and dissapeared in the ruins. Whatever was once here truly must have been magnificent, why waste all those beautiful views?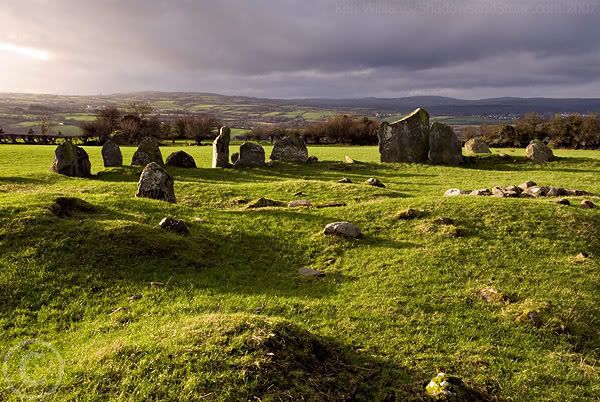 Part of the interior of Beltany Tops Stone Circle


Law 7 The weather man will always get the last laugh.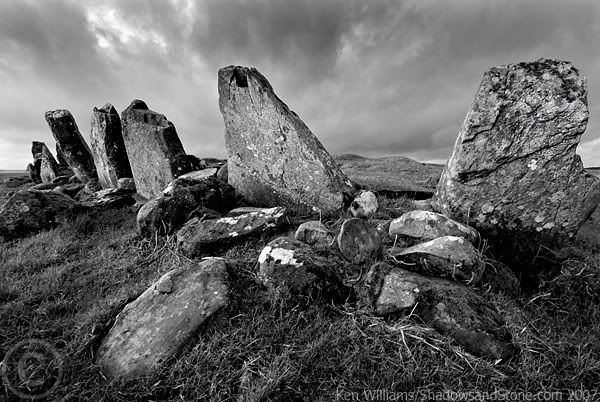 Clouds close in meancingly...


With high spirits after leaving Beltany I headed deep into the Co. Tyrone countryside to locate the charmer of a megalith that is Leitrim Dolmen. As, ahem, 'informal' as the signs are in Donegal, in the 'British' north they are downright pedantic. Every track that you can run a cow down has a name and a neat sign. Some even have the townland below. If I had a map this would be a breeze, using the GPS and going 'as the crow flies' was like being transported into a game of pac-man. The 'ghosts' chasing me though were rain clouds. Thinking I had outrun them I joyfully pulled up at the little fence with the dolmen in plain view. After spending some time surveying I got down to taking pictures but as the lens cap came off, the clouds decided this was the moment to deliver their cargo.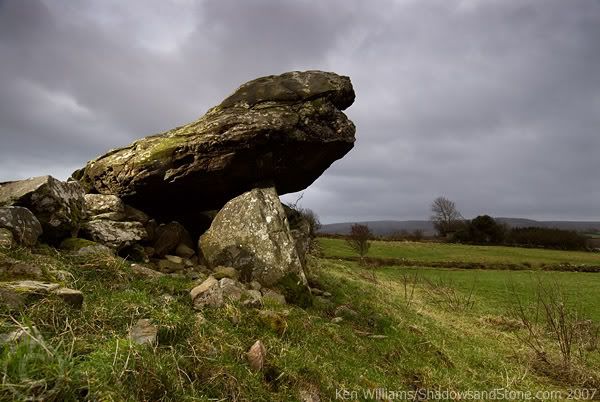 Leitrim Portal Tomb, Co. Tyrone.



This tomb is quite cute, its just sat there like an old farmer leaning against the wall watching the world and their cattle go by.

The capstone is very odd, as pointed out by Fourwinds a gleaming white 'eye' oggles you as you approach, you do indeed feel watched. It is very easily spotted from the road but the local roads are maze-like, if you've got a good map or a gps this is an easy, pleasant site to visit. Shame I got thoroughly rained on before I got my fill of photos.




As I got into the car it had just turned 4 O'Clock, I turned on the radio and heard 'and thats your Saturday sport, now, the weather...'
Posted by CianMcLiam
8th January 2007ce


Edited 8th January 2007ce




Latest TMA Blog Posts
1-10 of 779 Posts |
Next →