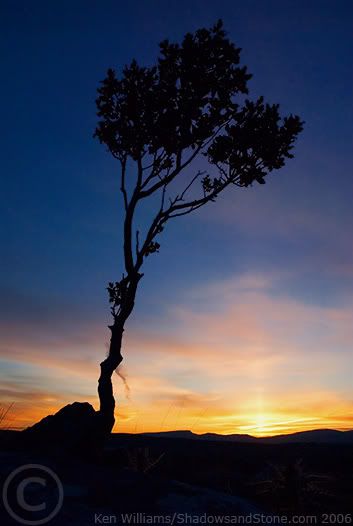 A lonely battered bush clinging to an ancient field wall beside Ardgroom Stone Circle

The Beara peninsula is a rocky sliver of mountainous land jutting out into the Atlantic, battered by wind, sea and rain the whole year round. Divided between the counties of Cork and Kerry, the peninsula is aptly named after the Cailleach Beara, the mythological hag/witch/goddess who turns up across the country as the maker of mountains and cairns, rivers and meadows. The Beara peninsula is the perfect home for the Cailleach Beara, everything is craggy and ancient with few flat areas among the mountians, valleys and lakes. From her apron stones fall down and form the ancient cairns and mountains and her hammer strike creates meadows and rivers.

She's been busy down here and has left plenty of material for bronze age builders to create some of the finest stone circles in Ireland. Drombohilly, Ardgroom, Uragh and Dromroe are all perfect and unique, contrasting constructions and settings and essential places for anyone wanting to get a feel for the place. Visiting just one or two places won't do it justice. Spend a weekend and see as much as you can.

It's one of my favourite places in the country, cappuccinos and bagels have not yet infected the peninsula and despite the odd bungalow popping up in ludicrous places it still feels wild, unlike places like Connemara where the bungalows breed like rabbits.

Such fine weather as we had on the Bank Holiday has its downside, cloudless skies usually make dull photos with no mood and sunset/sunrise come and go with weak colours. Nervertheless, in the sticky heat I made the long drive down to Kerry to see what sunset would bring at Ardgroom Stone Circle.


There's no better place to sit and watch the sun go down than at Ardgroom Outward, the low sun raking the old walls and rushes, wildlife springing out of every bush, the hazy mountains across the Kenmare Estuary and of course the spectacular stone circle with its own viewing platform above. Even without the low heavy clouds that make sunsets burn red and gold it was worth the traffic jams and warm fizzy drinks.



Getting accomodation on a Bank Holiday weekend in West Cork/Kerry is no easy task, getting somewhere that will accomodate a person travelling alone is near impossible. The lovely B&B I managed to persuade was near Ardgroom village, 5km still constitutes 'near' in Cork. This meant foregoing the pint of black stuff and just to top it off I was chased back into the packed pub from my quiet roadside bench, unable to finish my sparkling water, by the swarm of midges that have been following me around for the past three years.

I set the alarm for 5am in the hope of catching a decent sunrise at Drombohilly but a quick peek out the window at the cloudless sky allowed me to go back to bed safe that I wouldn't be missing anything worth carting my carcass out at that ungodly hour.

So, four hours and a fried breakfast later I made my way across the backbone of the Beara hills to visit Derreentaggert



Much easier to find than I expected, it is well signposted from the centre of Castletownbere. Clearly a monument of local importance, it has very easy access and plenty of field space to allow you to stand back and consider how impressive it once must have been in its complete state. It would seem that destroying either one or both of the portals of these stone circles was sufficient to see off the pagan spectre and plenty of the stone circles in this part of the country have a buck-toothed appearance as a result.

Somehow this only adds to this site, the remaining stones couldn't possibly appear more defiant and proud, this is one of those circles which seems to have a personality ot itself, apart from the human effort put into making and breaking it. A great site.

This is a very impressive stone, it stands on a knoll with views over the coast but inland it is surrounded on all sides by hills and mountains.

Clearly visible from the road as you drive down the hill into the harbour, it was surely a beacon for ancient mariners, given the sheer number of ancient remains in the area it possibly marks one of the busiest places for trade and rest along the coast.

Its worth knowing before visiting that you will be greeted on arrival by the people who own the land and for a €2 coin you will be given the nod and a badly printed sheet of info taken directly from the stonepages website.

This is a worrying trend in the locality, some landowners leave a donation box for you to exchange courtesies with a small contribution and there are few places that aren't worth parting with a euro or two to visit if your getting signageand a decent trackway. Charging people up front though does leave you feeling ripped off when there is no service or added value being offered to the traveller.

It stands 5.3m tall and though it is clearly quite ancient it looks surprisingly modern, its shape and colour brings to mind the stones of Callanish and its weather beaten location with fine views of the harbour takes some beating.

The ogham insciption is fairly worn and very high up on the stone, it was also in the shade on my visit so did not come out in any photographs.





The owners of last night's B&B seemed to know quite a few ancient sites in the area and recommended a visit to Ballycrovane Ogham Stone, with the warning that the landowner was charging a euro entry which did not go down well at all with some German tourists that had stayed at the B&B a few months before.

Driving down the windy road towards the natural harbour it soon became apparent that charge or no charge this stone had to be seen up close. Even when hillocks block the view, the cranium of this magnificent stone stays in view. This must have been the megalithic equivalent of the Statue of Liberty, greeting weary travellers coming from land or sea.




Make no mistake, if you want to see this stone at close quaters, your not going to do it on your own terms: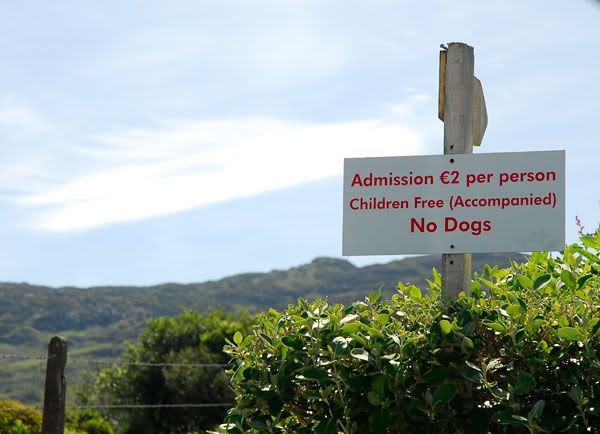 Outside the house past which you have to cross to get to Ballycrovane Ogham Stone

This is a view of the stone similar to the B&W but the coast and sea is easier to make out in colour:



Ballycrovane Ogham Stone, Beara Peninsula

With two new sites under the belt today it was definiteley time to re-visit a favourite, the circle of Drombohilly was just as good as I remembered as were the views and the trek from the road was slightly better than in October. The tree plantation that will obscure the fine views west in years to come has not grown much thankfully, the circle itself was much easier to see in the midday sun from the road also. Its a shame that this will not be possible once the small but strategically placed plantation matures.

Only two streams to cross today, the ordeal in getting to this circle surely adds to its appeal!




Back in the car again and its time to get some nourishment and plan the next sites to hit, after some contemplation I decide it's probably better to leave some stones unturned and save the next few sites on my itinerary for a future visit. The pull of the little brown roadsigns was too much though, passing the turn off for Shronebirrane I did a quick manouvere and was soon driving down one of the most spectacular valleys anywhere in Ireland. Keeping my eyes peeled for the circle I eventually spotted it deep in the belly of valley, smaller than I had imagined and trying to inch its way away from the house built in its space.



This is a nice, if battered, stone circle. It is not a great stone circle however and hardly likely to cause awe in the casual visitor. Why then, when surrounded by some dramatic and downright jaw-dropping circles so nearby, are those with whetted appetites asked to fork out €2 to spend some time trying to figure out which end is up at Shronebirrane? No getting past it though and despite my indignant and incredulous look I had to hand over the cash to gain entry and a photocopied sheet with one of those B&W pics that is really just a square of blobs, if you stare long enough you might see the face of Jesus Christ or Juda Priest.

If you are really flush though you can walk the mountain path for another €4.

The circle itself is reduced to an arc of disjointed limbs, cowering nervously at the bottom of the cavernous hills surrounding it. The valley setting is spectacular but any sense of wonder is completly shattered by the bungalow plonked right beside the circle.


It is not known whether the alignment with this outlying Ford Fiesta is an original feature:



Shronebirrane Stone Circle and its monstrous mechanical partner


The highlight of the day was still to come. With both a map and GPS I was still not confident I would ever get to Dromroe circle, but adversity makes triumph all the more sweet and this place is irrationally joyous to find and pass the day at.



This is a beautiful circle in a wonderful location. It didn't really stand out when I browsed through TME but when I looked up some pics on Megalithomania.com I knew this would be near the top of the list for the next tour of Cork/Kerry.

I took the words of those who were here previously seriously and left myself plenty of time to get here. It's not incredibly far in terms of distance but it is a bit of a hairy journey. I could find no trace of any of the signs and walkways mentioned in TME and ended up relying on the sometimes dodgy combination of GPS and 'as the crow flies' navigation. I'm pretty sure I picked the most difficult route to get here, when I got to the circle I passed one of the Beara Way markers but looking back it seemed this track would lead me past the herd of crazy eyed bulls that loitered around the gate to the lane that would make the most direct route.
After getting mugged for €2 at both Ballycrovane and Shronebirrane I would not have been one bit surprised if the cows wanted a feckin toll to cross as well.

After falling through two hedges and over and under countless barbed wire fences, slipping into drainage trenches and getting torn on thorns I finally spotted the portal stone framed under a lovely tree. The sun was really scorching the ground when I finally sat and caught my breath against one of the old stones.

This circle is far better than in the photos, although overgrown it is wonderfully complete and the stones are perfectly chosen. It's location is probably only second to Uragh, you can survey for miles withoug seeing a single bungalow and it takes no effort to cast your mind back to when these craggy charmers were dragged to this spot.

The only thing that detracted from this place was some clever person leaving a sheep skull and a slab of stone with a hand perfectly painted in sparkly pink nail varnish on the boulder burial...



You have to wonder what goes on at some of these sites when people with too vivid imaginations gather round, its just a pity they have to leave reminders behind them:


The boulder burial in the centre of Dromroe circle makes an incongrous altar for the ancient peoples of 2006
Posted by CianMcLiam
6th June 2006ce


Edited 8th January 2007ce




Latest TMA Blog Posts
1-10 of 781 Posts |
Next →