Notes and photographs from around the Evora area of Portugal's Alentejo region 19th-20th February 2007
(Originally to come in two parts, now extended to three to accommodate more pictures)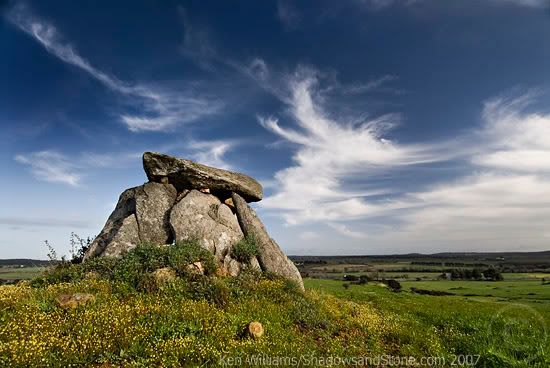 Anta dos Tourais (Dolmen of Tourais), near Montemor-o-Novo, Alentejo.

Part two of a three-part weblog, part one is here:http://www.themodernantiquarian.com/post/55691

For a slideshow overview of Portuguese sites included in the weblogs, follow the link: http://www.shadowsandstone.com/gallery/2500254

The photos in the weblog are all reduced in size for speed of loading, larger versions can be found here:
http://www.shadowsandstone.com/Megaliths%20of%20Portugal



Tuesday 20th February 2007
6.30am
Is being single minded and absent minded the same thing? I had to be 'back before lunchtime, MISTER!' so there was no time to lose. Therefore it was with much rejoicing that I remembered just at the crucial moment that I was to swish not swallow the mouthwash. Phew. My nerves were already like electric fencing after leaving the phone alarm set on vibrate on top of the sideboard across the room. A sideboard of the kind that are engineered and finely tuned to be the world's most efficient transducer, converting your vibrating phone into the hell-child of Bedlam and Armageddon. It began to dawn on me that the weblog was starting to sound like the voiceover on Sex and the City so I quickly moved on to the weather check.

Misery. Wet, windy and grey. Crapola. That put to bed my plans to head north to Crato, a few hours drive from the hotel and a long uncertain walk. Nothing else for it except to sleep off some of that misery.

8.30am
Now that's more like it! Blue skies clearing from the north and spring sunshine on the wet footpaths, time to get the hell out of here. The hotel is right on the road back to Montemor-o-Novo, an area clustered with little numbers circled in pencil on the map provided in TME. Happy days.

First stop will be Anta dos Tourais, not the most elegant dolmen from the picture in TME but hey, a little candlelight and some wine, who knows? And besides, some guy used to make shoes in it a few decades ago. The dolmen is small but visible near the horizon as you pass along the main road that runs parallel to the motorway and Cope's directions bring me up a farm lane into a yard with an overly enthusiastic guard dog. I spent a few moments trying to determine if I could reach the doorbell in a safe manner by driving up to it and reaching out the window but fate had not abandoned me yet (must have been just on a fag break). A nice woman approached in her car and we conversed above the barking through open windows. You can reach the dolmen through the farm yard but the paramedics may not reach you so it's safer to take the next left and take your chances with the fences up the hill.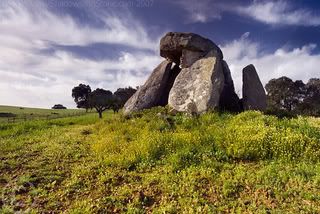 Anta dos Tourais, looking uphill, roughly south west I think.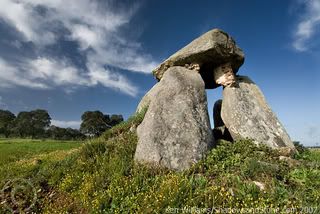 Anta dos Tourais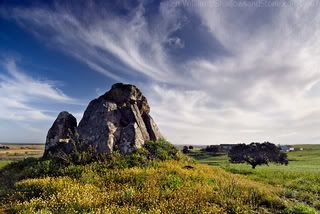 Anta dos Tourais

This is actually a very fine anta, not huge in scale but even in it's slightly dilapidated state it proudly stands watch over some exceptionally beautiful plains below and into the distance. Some of the shoemaker's brickwork still remains attached to the capstone, like a piece of spare rib stuck between a fair ladies' teeth and underneath the capstone a small perfectly igloo-shaped structure clings menacingly. My first inclination was that it must be a bird's nest but when you're a foreign guy from the big city you aint takin no chances. I can also attest to Cope's words about boggy ground and rotting footwear. Bring boots and a door mat (to drape over the barbed wire..)


Only a stones-throw away (for a giant), and across the motorway on a small tree lined ridge, the bulbous Carapeteiro Dolmen would be of special interest to me. This was mainly because of its apparent affinities to the primitive form of dolmen found in Ireland, Wales and Scilly*. They don't want you to visit it. There was a sign in red and white but, hey, it's not like I can read Portugese is it? The message is reinforced with live electric fences, I should have taken the hint but so-close, yet-so-far and all that. The field was empty anyway.

Roasting in my waterproofs and jacket, I sighed with relief and threw down my bag beside the monster dolmen. Before I forget, must check for the cupmarks mentioned in the book, dumpy, dumpty-doo...uh-oh! Bolted to the spot, I felt like that British soldier at Isandlwana who peeked over the edge of the ravine only to find the horror of tens of thousands of Zulu warriors ready for battle, sitting in perfect silence. 'Oh bugger, ruminants!' I rued (or words to that effect). Portuguese bulls have a take-no-shit look about them and horns a foot and a half long, there were dozens of them. Slowly reversing back, I grabbed my pack and pointed the camera in the direction of the dolmen, made a few clicks and ran like boiling hell. Add an extra shot of electric fencing, just for good measure.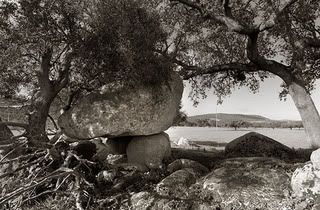 Carapeteiro Dolmen, no time to note orientation or features of interest!

Back in the safe haven of the car, it was time for a bloody strong coffee. The Portuguese don't 'do' coffee they way we do it in Ireland, the petrol stations also seem to double up as the local bar and town hall. The guy who could speak English was away for a moment and I have only one word of Portuguese, 'abrigado' plus an assortment of umm's and err's accompanied by bizarre hand signals. So there I sat in the midst of boozing locals with a dainty little espresso cup when all I wanted was a good old Irish style paper cup with plastic lid and cardboard collar filled with coffee that is thankfully too hot to get any taste from. I made 'mmm.. nice!' sounds and bolted.

Oh ye gods, give me something simple! Nothing sounded simpler than Anta Grande de Comenda da Igreja, apart from the name of course (which I believe translates to 'The great Dolmen of the Church of Comenda'). It even has sign posts.

The walk from the road is wonderful, despite the now mandatory scoping for bulls I really enjoyed the short ramble and as I approached the enclosure I saw the landowner with his jeep and dogs was just leaving through the little gate, nice to see some continued interest and care being taken of this fine Anta.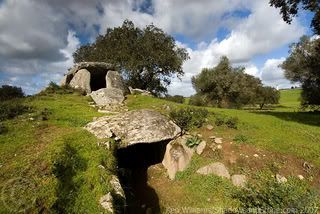 Anta Grande de Comenda da Igreja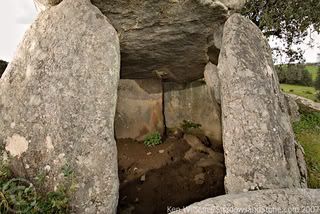 Anta Grande de Comenda da Igreja, looking into the main chamber


This is a big one. Much, much bigger than I expected. The main chamber seems larger than in Newgrange! The walls are lined with exceptionally huge stones and the enormous capstone has broken under its own weight. The mound disguises the true extent of the main chamber and the long, wide passage/gallery that leads up to it. Its setting is equally charming, half in the shade of trees and the only sounds come from the birds and bees. This is picnic spot heaven and I wished I had packed some food and drink so I could have stayed longer.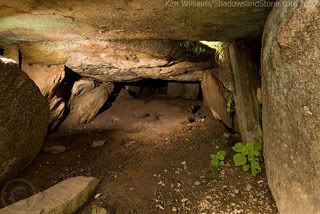 Anta Grande de Comenda da Igreja, looking into the gallery that runs into the mound towards the main chamber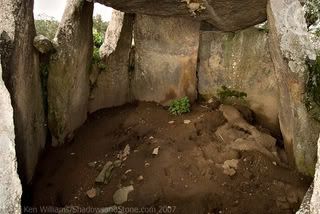 Anta Grande de Comenda da Igreja, a wider view of the interior of the chamber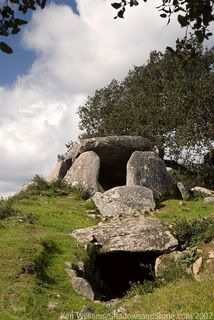 Anta Grande de Comenda da Igreja, the main chamber and 'gallery' from the front

It occurred to me though, as I looked back over my shoulder to watch patches of sun and shade pass over the mighty tomb, that I had seen mention of a smaller anta in the same area. As it happened, when turning in the driveway I met the farmer who, without speaking a word of English, gave me animated directions to the small dolmen and even drove me up to it. It's practically on their doorstep, near the edge of a slope that falls off sharply behind it in a large field of the curious looking trees that are stripped of their bark to make cork, leaving them looking like they are wearing grey long-sleeve t-shirts.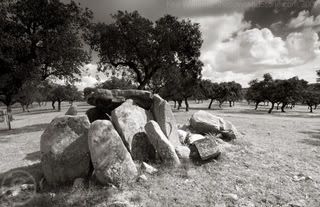 Anta Pequena da Comenda da Igreja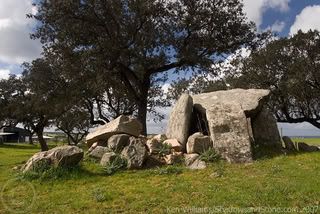 Anta Pequena da Comenda da Igreja, from the rear

In the Alentejo, where Dolmens come in large and extra-extra large, this is a small one, but not altogether lacking in charm. It reminded me a little of the small dolmen-like passage tomb skeletons such as Craig's Dolmen and The Giant's Ring. The lush green fields and willowy trees that surround it add immensely to its attraction, especially considering its proximity to the farm. I would have loved to wander a little around the groves of trees and down to the lovely lake behind but I was due back in the hotel in a short time for some lunch and a shower before check out. The day was far from over though and I had great expectations for the afternoon. I wasn't to be disappointed!

*Almost all the references are from The Megalithic European. Tried with no luck to find anything megalithic related in English around Lisbon and Evora.


Posted by CianMcLiam
8th April 2007ce


Edited 8th July 2007ce




Latest TMA Blog Posts
1-10 of 779 Posts |
Next →