Notes and photographs from around the Evora area of Portugal's Alentejo region 19th-20th February 2007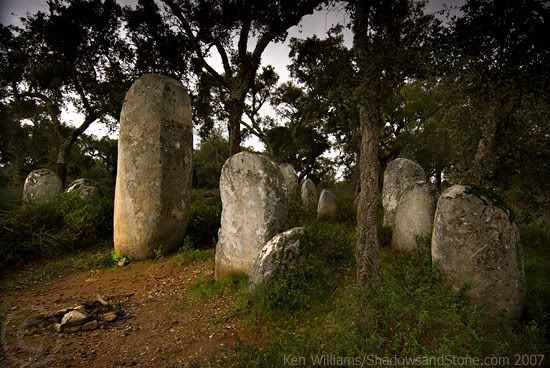 Gates of Mogos Stone Circle

Part three of a three-part weblog, part one is here:
http://www.themodernantiquarian.com/post/55691
and part two here: http://www.themodernantiquarian.com/post/56726

For a slideshow overview of Portugese sites included in the weblogs, follow the link: http://www.shadowsandstone.com/gallery/2500254

The photos in the weblog are all reduced in size for speed of loading, larger versions can be found here:
http://www.shadowsandstone.com/Megaliths%20of%20Portugal


Tuesday 20th February 2007

Ah yes, I remember it like it was just February. The mid-afternoon slump banished with a shower and some tasty food in Evora. There's a wierd feeling about town, already feeling a little light and hazy after a few beers and a poor nights sleep I thought someone had flipped the crazy switch when we strolled into the market town. Over there, a bunch of old men in 50's slacks and jackets sitting chatting, one of them bizarrely wearing a bright red nose. From a small lane way a group of children emerge dressed as bees and flowers. Bizzare. We find out there's a carnival on but there's no time to be wasted on frivolities, the Anta's won't be there forever.

We head out of town following Cope's directions to the Barrocal Dolmens and just reading them back now I can remember that uneasy feeling, at least I have the enthusiasm to persevere, other folk in the car do not! So we left the town with no sign of the 'leaving Evora' sign we were to zero the milometer at and pressed on. The dolmens are down an obscure track at a crossroads that leads to a house where friendly people live. There's a nice little gate into the field with the larger dolmen but the smaller one has one of those wire-and-post jobs that springs back 20ft when you undo the catch and seems to defy any attempt to pull it all the way back. Neither gate seem sturdy enough to hold in crazy eyed bulls so I ventured in.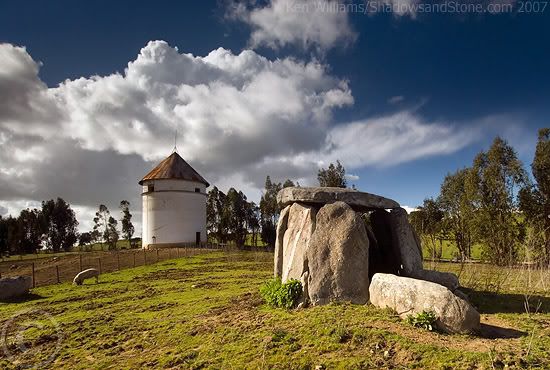 The Large Barrocal Dolmen

This one is a beauty, almost like a little grotto. The chamber is somewhat circular and very roomy, it reminded me a little of Haroldstown Dolmen except less draughty. There's a remaining slab projecting out from the entrance that would have once been part of a passage but nothing else of a cairn remains on the heavily ploughed land.

As I stood composing a shot with the odd circular building behind it I heard the dread of every townie, a raspy snort coming from 6 o'clock. Slowly I turned around to face my fate only to find an unkempt pig rooting through my camera bag. Scanning my internal database of animal temperament twice, no entries under 'danger' were to be found, just as I suspected. Safe to whip my bag from under the snortmeister. Soon I had more little trottered friends but charming as they were there were places to go, antas to feel.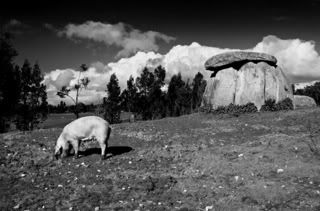 Large Barrocal Dolmen and piggie


The smaller Barrocal dolmen is not far across the road and it's a little treasure, kind of like Craigs Dolmen in Antrim in size and shape but staggering like a drunkard. It's sat half way up a gentle slope with a lovely view over a little lake and pleasant farm land.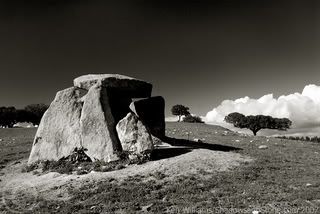 Little Barrocal Dolmen

Anta Grande do Zambujeiro

This dolmen is a national monument and has signs irregularly placed around the area, you still feel like you shouldn't be driving through farm yards and agricultural colleges with bits of tractors and all sorts lying around but soon you come to a small car park where you must cross a bridge by foot. You can't see the dolmen from here and the fact that the bridge has collapsed and been washed down the river might put many off, not one for the kiddies then which is a shame.

This is the mothership of all dolmens, it's unbelievably big and the stones that make up the chamber are giants that could make you dizzy when you peer over them into the chamber far below. It was once a massive hill with a passage and enormous chamber hidden below, much of the mound remains behind the dolmen and around the sides but the megalithic skeleton is fully exposed, somewhat protected by a nasty tin roof.

The chamber is inaccessible at the moment and signs of fires and huge amounts of graffiti are probably as much to blame as the shaky looking structures that join the passage and chamber. The massive former capstone lies broken and discarded behind the chamber, what a sight this thing must once have been! After visiting many Irish and a handful of Portugese dolmens of sizes great and small, I felt like I had just been taken to the Queen Bees lair. A must see.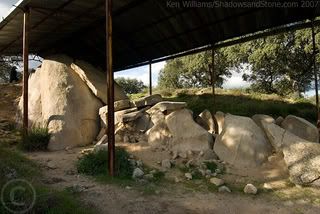 Anta Grande do Zambujeiro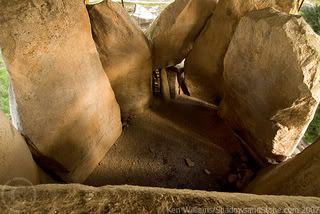 Anta Grande do Zambujeiro, looking down into the chamber.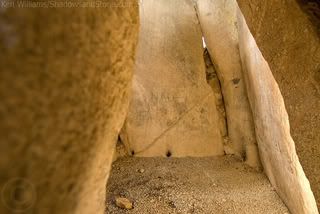 Anta Grande do Zambujeiro, peering into the chamber.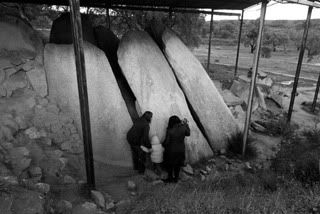 Anta Grande do Zambujeiro, 'little' hope of getting in .



After leaving here we found a little village restaurant to stop and have a coffee, and also to decide the best way to use our few remaining hours, while enjoying the sun and view from the terrace over the orchards and valley below, a million miles off the tourist route. The directions to Anta-Capela de N S do Livramento seemed straightforward but that never stopped us from getting lost. We found the little village and stopeed to ask some delighted locals who were quite proud of their dolmen chapel and amazed to see it's entry in TME.

We weren't far off but by the time we reached it the sun had dropped below the trees and the monument was in shade. I'd seen lovely sunny pics of it's bright white painted exterior with homely blue skirting but now it's truly in need of a fresh coat. To the passer by it probably just looks like a quaint chapel with some very dodgy plastering and brickwork out the back, as Cope points out though a large banana shaped stone lies alongside to torment the devout and tempt the newly virtuous dolmen church. This is more a curiosity site than a megaracks haven but it's wonderful all the same and the views are customarily spectacular. Come in the morning time and bring either some whitewash or thinners depending on your persuasion.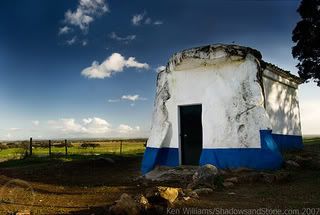 Anta-Capela de N S do Livramento , dolmen church

With the sun dropping fast and the minutes and seconds ticking we made our last detour back to the Cromeleque dos Almendres, I had the idea in my head that the hillside faced the setting sun and I was hoping to get some better pictures than the cloudy flat photos from the previous day. As we pulled up however it was with a little disappointment that I realised it was in fact in the total opposite direction. 'Damn that Cope to hell' I thought to myself, but skimming through his notes again it appeared I'd gotten it totally backwards, the hill does of course face sunrise as described. Whether through my own impatience or Cope's vagueness we'd stopped and started, stumbled and swore but in the end I'd seen some of the finest sites Portugal had to offer, almost entirely thanks to TME for putting it in my head and getting me there. Maybe it was thus written to add spice to the adventures of megalith hunters, it certainly made for a very memorable few days. In summary, Portugal has some amazing megalithic sites, the landscape is beautiful and the villages and people have charming quirks and a friendly manner. Many speak no English, we'll just have to learn Portuguese and go to one of the finest megalithic havens in Europe.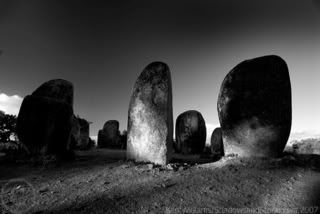 Evening at Cromeleque dos Almendres
Posted by CianMcLiam
8th July 2007ce


Edited 8th July 2007ce




Latest TMA Blog Posts
1-10 of 778 Posts |
Next →